Verizon Galaxy Nexus Review
57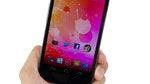 Introduction:
Tearing it up overseas and making its mark in the Android universe, it has surely been a roller coaster ride for US consumers, but Verizon's version of the highly esteemed
Samsung Galaxy Nexus
is finally making its rounds in the US – with that oh so lovable 4G LTE connectivity in tow. Timing couldn't have been any more favorable for the handset, as it's seemingly chiming in at the literal tail end of the year, but despite that, it's heading into serious competition against some other top caliber smartphones on Big Red's lineup. And as we all know by now, you really need to bring you're A+ game in order to be regarded as a profound competitor.
Yes, Verizon's lineup is undoubtedly crowded and rich with handsets sporting their own specialty refinements – like the
Motorola DROID RAZR
's impeccable design and the
HTC Rezound
's Beats Audio support. Indeed, there were probably many people bummed by the fact that Verizon didn't get the
Samsung Galaxy S II
– though, this one is easily regarded as one great substitution. Still, there's no arguing that Verizon customers have plenty of options, but even before its official arrival, the Samsung Galaxy Nexus was being heralded as a landmark device.
Knowing all of that, will it eventually reign supreme and be considered the one Android powered smartphone to rule all others? Naturally, we're dying to find out, so let's not waste any more time and simply dive right in!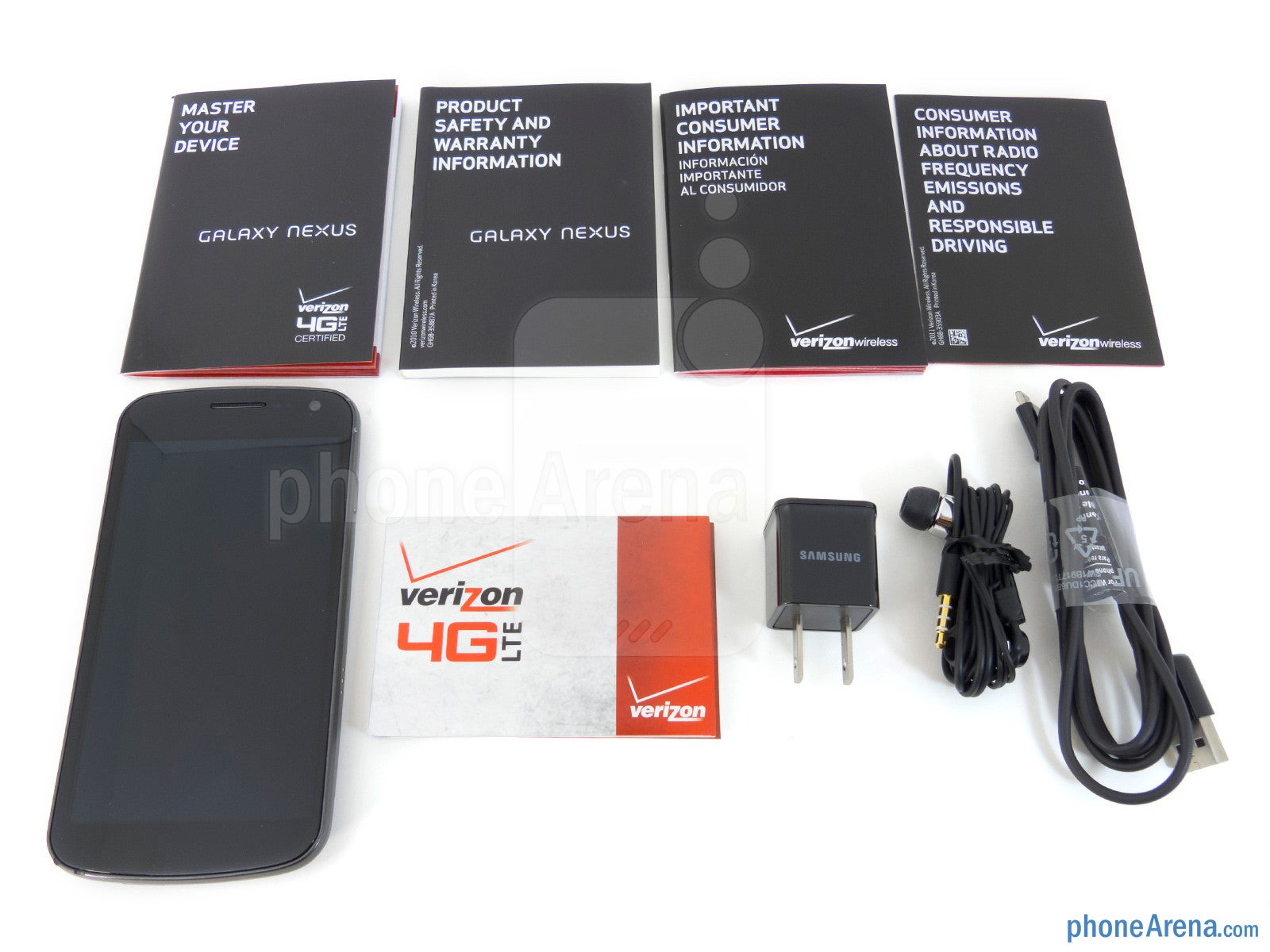 The package contains:
microUSB cable
Wall Charger
Stereo Headphones
Quick Start Guide
Product Safety & Warranty Information
Design:
By now, you're probably familiar that Verizon's variant is similar in design to the GSM model – and rightfully so, that's the initial perception upon holding it our hands for the first time. Almost everything about it is identical, like its appearance and choice of materials, with the exception that it's minutely thicker at 0.37" (as opposed to 0.35"). Honestly, it's not bad at all and is actually considered to be very streamlined by today's standards. Moreover, it's very comfortable to hold thanks to the Hyper Skin finish in the rear, its balanced weight (5.29 oz), and skinny bezel around its display. Unsurprisingly, it's your typical Samsung construction as it utilizes an all-plastic body and decent build quality.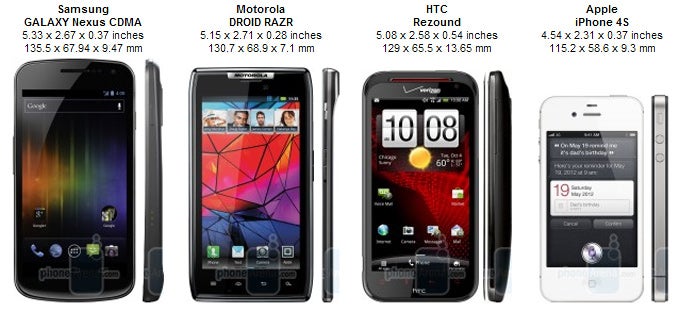 You can compare the Verizon Galaxy Nexus with many other phones using our
Size Visualization Tool
.
When it's turned off, it sports a clean looking facade because it doesn't boast any of the typical capacitive or physical Android buttons, but beyond that, there isn't anything particularly resounding about its overall design. Yes, we did drop the handset by accident, and seeing that it's plastic, it endures some of the damages. As a whole, it doesn't particularly wow us like the Motorola DROID RAZR, and honestly, it's rather underwhelming as a whole, which is glaring considering that this is a flagship device.
Already, US consumers are all too familiar with 720p displays – like the ones found on the HTC Rezound and
LG Nitro HD
. Nevertheless, the
4.65" HD Super AMOLED display
of the Samsung Galaxy Nexus still enthralls us thanks to its sharp details, high-contrast, wide viewing angles, and iridescent color production.
In fact, since it boasts a
resolution of 720 x 1280
, it translate to an excellent pixel density of 316 ppi – thus, making even the tiniest of fine text remarkably visible. Sure it uses an RBGB PenTile matrix pixel arrangement, which can cause individual pixels to be discernible upon closer inspection, but from a normal distance away, it's hardly noticeable. Furthermore, it sports a curved display, just like the Nexus S from last year, but it doesn't offer anything that's advantageous – rather, it's merely there as a complementary aesthetic look.
As we mentioned already, it flaunts a clean look with its display because Android 4.0 Ice Cream Sandwich doesn't rely on separate capacitive or physical buttons – rather, they're integrated with the platform. Above the display though, there's a 1.3-megapixel
front-facing camera
that can shoot 720p videos, but more importantly, it's used in tandem with the platform's new face unlock feature. Finally, although it's barely visible, there is an LED light smacked below the display that lights up for things like incoming phone calls.
Following in line to other Samsung's Android powered smartphones, we dig the placement and springy feel of the handset's volume rocker and dedicated power button.
Around its sides
, it features a 3.5mm headset jack, microphone, dock connection pins, and a microUSB port. With the latter, it doubles as an MHL port to provide us with the useful functionality of video-out – albeit, it's an optional accessory of course.
Lastly, a 5-megapixel auto-focus camera with LED flash protrudes very slightly from the surrounding area in the rear of the handset. Meanwhile, two notches are found squarely in the middle towards the bottom edge and tucks away its internal speaker. Prying off the flimsy rear plastic cover, it grants us access to its beefy 1,850 mAh battery and microSIM card slot.
Verizon Galaxy Nexus 360-degrees View:
Recommended Stories