Value for money: Apple iPhone 5c pricing stacked up against the competition (not pretty)
99+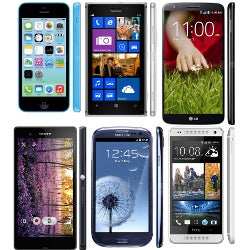 Apple lost more than $20 billion of its market cap yesterday, after investors freed themselves of some shares they owned, worried that the price of what was supposed to be the "affordable" iPhone 5c was in fact too high to gain Cupertino any meaningful market share gain.
The basic 16 GB
iPhone 5c
will sell for $99 on a two-year contract, and the whopping $549 unsubsidized, and the difference is bound to be annoying for carriers. A quick look at both subsidized and unsubsidized prices of current popular Android and Windows Phone handsets is enough to gauge why Apple's shares slipped more than 5% yesterday. Let's see what handsets you can get at, above, or below the iPhone 5c price tag.
In fact, there are only a handful of flagship handsets that are more expensive than the iPhone 5c at the moment - the
Samsung Galaxy S4
($614 from Amazon),
Nokia Lumia 1020
($610 from Amazon),
Xperia Z1
(£599.99 from Amazon UK),
LG G2
($575 from AT&T),
HTC One
($599 from AT&T),
Xperia Z Ultra
($649.99 from Amazon) and so on. You catch the drift - these are all phones stuffed to the gills with this season's mobile tech, while being priced within a Benjamin or even less of a difference with the iPhone 5c.
The more interesting part comes when you see what you can get for less or much less than Apple's colorful plastic 4-incher. Take a peek at the slideshow and tell us whether you'd consider the iPhone 5c at that price, or one of these other handsets below, even if you are already entrenched in the iOS universe.