VZW memo: Samsung Galaxy Note 7 pre-orders start August 3rd; phone launches August 19th?
3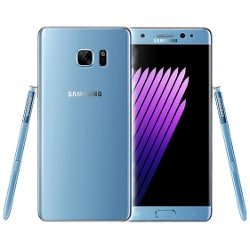 A tipster claiming to work for Verizon Wireless has written to tell us that the nation's largest carrier has sent out a memo to store employees. According to this missive, Big Red will start accepting pre-orders for the
Samsung Galaxy Note 7
on August 3rd, the day after the phablet is unveiled by Samsung. Previous rumors suggested that consumers would be able to
reserve a Galaxy Note 7 immediately after Tuesday's unveiling
.
Tomorrow's Samsung Unpacked event should also include the introduction of a new version of the Gear VR made for the Galaxy Note 7. According to the alleged memo, Verizon stores will get the new headset on August 4th. While the current Gear VR doesn't support the Type-C USB port that will be found on the Galaxy Note 7, the new Gear VR will work with both the Type-C and microUSB ports. It also has a wider 110-degree view versus the 96 degree look that the current model provides.
According to the memo, also on August 4th, Verizon stores will receive
wireless charging
pads for the Samsung Galaxy Note 7. Verizon will launch the Samsung Galaxy Note 7 on August 19th based on the internal memo.
"DATES:

8/2 – Samsung announces product

8/3 – Preorders start

8/3 – POP will be hitting locations

Updated Banner for stands

Window clings (DON'T USE – SAMSUNG IS AWARE OF THE NEW WINDOW STANDARD)

Table Tents (USE ON SAMSUNG PROVIDED FIXTURE / NEW TO NEW PHONE)

Pull sheets

8/4 – Update of DRUM fixtures will start

Installers will be removing Note 5 and will leave in store

New Gear VRs will be provided

Wireless Charging Pads will be provided

8/8 – Wall and Table fixtures will start to be updated

8/19 – Product will launch

8/26 – Go Backs (revisits of any issue or no merchandise at first visit)

8/29 – Promotion will end

GroupO will ship 1-2 boxes direct to stores

1 new live Samsung provided or mock device (DO NOT OPEN, PUT ASIDE FOR INSTALLER)

POP/Merch will be shipped directly to each location prior to installation"-Alleged internal Verizon memo
We have seen the memo, and while we can't post it to protect the source, it does look legitimate and does say everything in the quote box above.
Thanks for the tip!