U.S. consumers who pre-ordered the Galaxy S8/Galaxy S8+ from Samsung are getting a free gift
19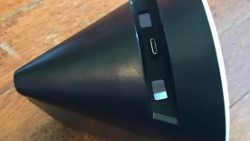 Samsung has started sending out an unexpected free gift to some customers who pre-ordered the
Samsung Galaxy S8
or the
Samsung Galaxy S8+
. One of our loyal Phone Arena readers sent us the pictures that accompany this story, showing that he received a free
Amplifier Speaker Dock
. The cone shaped accessory takes the sound from a handset and directs it through the cone providing the "amplification." While employing the freebie, you can charge also charge your device.
Those receiving the box from Samsung had pre-ordered the Galaxy S8/Galaxy S8+ directly from the manufacturer. Don't expect to receive this present if you reserved one of the two new Galaxy S handsets from a carrier or retailer (like Best Buy).
Consumers who pre-ordered from a U.S. carrier or retail store aren't going to end up empty handed. Besides the phone they will receive, those placing a pre-order before the phone launches on April 21st
will be the recipient of a Gear VR headset
. They also can take advantage of discounts on AKG earphones and 256GB microSD cards. Consumers pre-ordering in the U.S. from Samsung.com will also receive the free Gear VR headset and the aforementioned discounts in addition to their free Amplifier Speaker Dock.
Thanks for sending this in!