U.S. Cellular's Touch Pro2 to come without Opera Mobile?
This article contains unofficial information.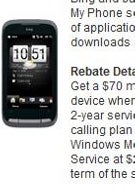 A new video produced by Video Review and Tutorials reports the differences between the HTC Touch Pro2 just released by U.S. Cellular and the model that the nation's top carriers are selling. One positive is that instead of TouchFlo 3D, you are shielded from Windows Mobile by the Sense UI seen on the HTC Hero. On the other hand, the U.S. Cellular version of the handset is said to come without the Opera Mobile browser. This is a shame because it leaves the slower Internet Explorer as the default browser and even the newer version of IE found on Windows Mobile 6.5 is not anywhere near the Opera browser in terms of rendering sites faithfully and easily, despite having limited Flash support. Speaking of the browser, there is no push browsing on the U.S. Cellular model, which allows the phone to check certain web pages at set time intervals. Google Maps is another missing program. Since you can always download a version of the Opera browser and Google Maps to your phone, the overall bottom line might be positive with the Sense UI replacing TouchFlo 3D. The phone is listed at a price of $199.95 after a $70 mail-in-rebate and a 2 year contract covering a plan costing at least $39.99 a month and Windows Mobile E-mail and web service at a price of $24.95 monthly for the 24 months of the contract.
HTC Touch Pro2 Specifications CDMA
|
Review (Sprint)
source:
wmpoweruser
If you have some interesting info that you'd like to share with us, feel free to
Tip Us!