Tim Cook meets with India's Prime Minister to discuss Apple's future in the country
30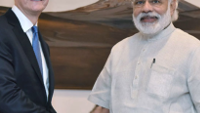 Tim Cook met with India's Prime Minister Narendra Modi yesterday, and the Apple CEO outlined his plans for Apple's future in the country. India is poised to become the world's second largest smartphone market next year, topping the U.S. But with the average Indian making less than $3.10 USD a day, pricing is of the utmost importance. 70% of smartphones sold in the country last year were priced under $150. While Apple has only 2% market share in India, iPhone sales rose 56% in the country last quarter.
This was Cook's first visit to India and it coincided with the opening of an Apple development center in the country. A statement released by the government stated that Cook spoke to the Prime Minister about Apple eventually manufacturing and retailing in India. Earlier this month, one of the contract manufacturers that builds the iPhone, Foxconn, was said to be
close to signing a deal to build a factory in the region
.
In an effort to reach cash-constrained Indians,
Apple recently filled an application to sell refurbished iPhones in India
. While no official answer has been made, a telecommunications ministry official leaked the news that
Apple's request was rejected
. The Indian government has been promoting a program for consumers, telling them to buy domestically manufactured goods. And some officials have said that the country does not want used electronics to be shipped into the market.

Apple's top-selling handset in India is the Apple iPhone 5s. Priced at $300 in the country, the phone was responsible for 50% of Indian iPhone sales in the last quarter.



Apple CEO Tim Cook tweets India's Prime Minister Narendra Modi at the conclusion of their meeting


source: Bloomberg