India rejects Apple's application to sell refurbished iPhone units in the country
28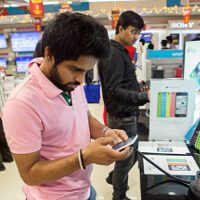 In the U.S., buying a refurbished handset isn't much of an issue. In India, however, Apple has to apply to import these previously used handsets into the country to sell. And Apple's application was flat out rejected. The same thing happened last year when the environment ministry turned Apple away. The company's goal is to sell lower priced handsets in what is the second largest mobile market in the world.
Apple has just 2% of the Indian smartphone market, and with the possibility that we have seen a short-term peak in iPhone sales during the calendar fourth quarter of 2015 (
when 74.8 million units moved
), selling refurbed iPhones in India could provide Apple with some incremental sales that could bolster Apple's top and bottom line, while smoothing out the decline in the product's sales.
Apple is also looking to open retail stores in India to help it compete with some of the local handset providers. But all of these plans are now in limbo following the rejection of Apple's application. Other handset manufacturers in India went public with their plea that the government prevent the used iPhone models from being offered in the country. They claimed that it would lead to a flood of used electronics imported into India, while at the same time it would go against the Indian government's program that highlights goods that are "Made-In-India."
Apple has decided not to comment on the rejection at this point in time.
source:
Bloomberg