This is the video Xiaomi is using to make consumers want to buy the Mi Mix 2S
The Xiaomi Mi Mix 2S was unveiled earlier this week
, and it delivers high-end specs starting at the equivalent of $527 USD for the version with 6GB of RAM and 64GB of native storage. The top-of-the-line model, known as the "King," comes with 8GB of RAM and 256GB of storage for the equivalent of $639 USD. With a 5.99-inch display, a Snapdragon 845 mobile platform and an impressive dual camera-setup (12MP+12MP) on back, this might have been a good device to kick off U.S. sales with. However, the company says that
its long-awaited U.S. landing will take place later this year, or early in 2019
.
This probably wouldn't be the best time for a phone manufacturer from China to launch its first phone on U.S. soil anyway,
in light of Huawei's issues
. The U.S. government is concerned about the Huawei's close ties to the Chinese government, and is also trying to talk allies into canceling any orders they have for Huawei's networking equipment. The fear is that the company's products are spying on American citizens and corporations. Xiaomi's name has never come up in the media as a conduit to the Chinese government, but in this charged atmosphere they could be found guilty by association and its phones given a wide berth by American consumers.
Anyway, what we wanted to show you is the video at the top of this story. Titled "Get Your Hands on the
Mi Mix 2S
," it shows off the phone's full-screen display (no notch!), vertically mounted rear cameras, fingerprint scanner and more. Xiaomi expects that those watching the video will immediately want to pre-order the phone, which they can do right now. The
Mi Mix 2S
will start shipping on April 3rd.
The Xiaomi Mi Mix 2S is now official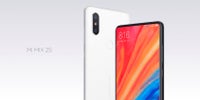 source:
Xiaomi