Xiaomi Mi Mix 2s Review
25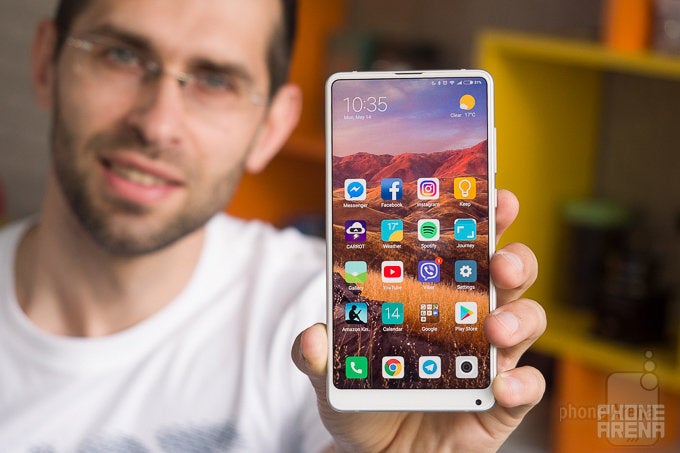 Chinese phone maker Xiaomi has been growing by leaps and bounds and it's just reached a whopping $70-billion-dollar valuation. Now, after years of exclusivity in Asia, it is starting to bring its phones to Europe in an ongoing West-ward expansion. While there are still no commitments about a U.S. launch, Xiaomi has repeatedly shown interest in the market and its latest flagship phone, the
Xiaomi Mi Mix 2s
, is probably one of the biggest reasons why not only Xiaomi should be interested in a global launch, but millions of customers too.
The Mi Mix 2s is the newest phone in the Mix series. For those who are not familiar with Xiaomi's product lineup, the Mix series of phones is its boldest and most innovative, known to have the trendy bezel-less design years before other phone makers introduced similar phones. And no, no notch is included with this phone.
The Mi Mix 2s, however, is not just about the screen: it features a brand new, gesture-based navigation, similar to the one on the iPhone X, an improved camera, as well as a beefed-up version of the phone with 8GB of RAM and a whopping 256GB of storage. And the price is still lower than that of an iPhone X or a Samsung Galaxy.
So, is the Xiaomi Mi Mix 2s really that elusive flagship-killer? And is it worth the effort to import it if it's not available in your country? We've been living with this phone for more than a week and we like it a lot. Here is why.
Design
Sophisticated simplicity.
The original Xiaomi Mi Mix phone launched when there were basically no other "bezel-less" phones around and it felt exciting and different. Fast forward to 2018, and bezel-less phones are the norm, but the newest Mi Mix 2s still manages to excite enthusiasm with its sleek and elegant design, uninterrupted by a notch. We don't hold a grudge against notches by any means, but they are an interruption that breaks the proportionate feel of full-screen photos and videos, and we appreciate a bezel-less design that does not concede to that compromise.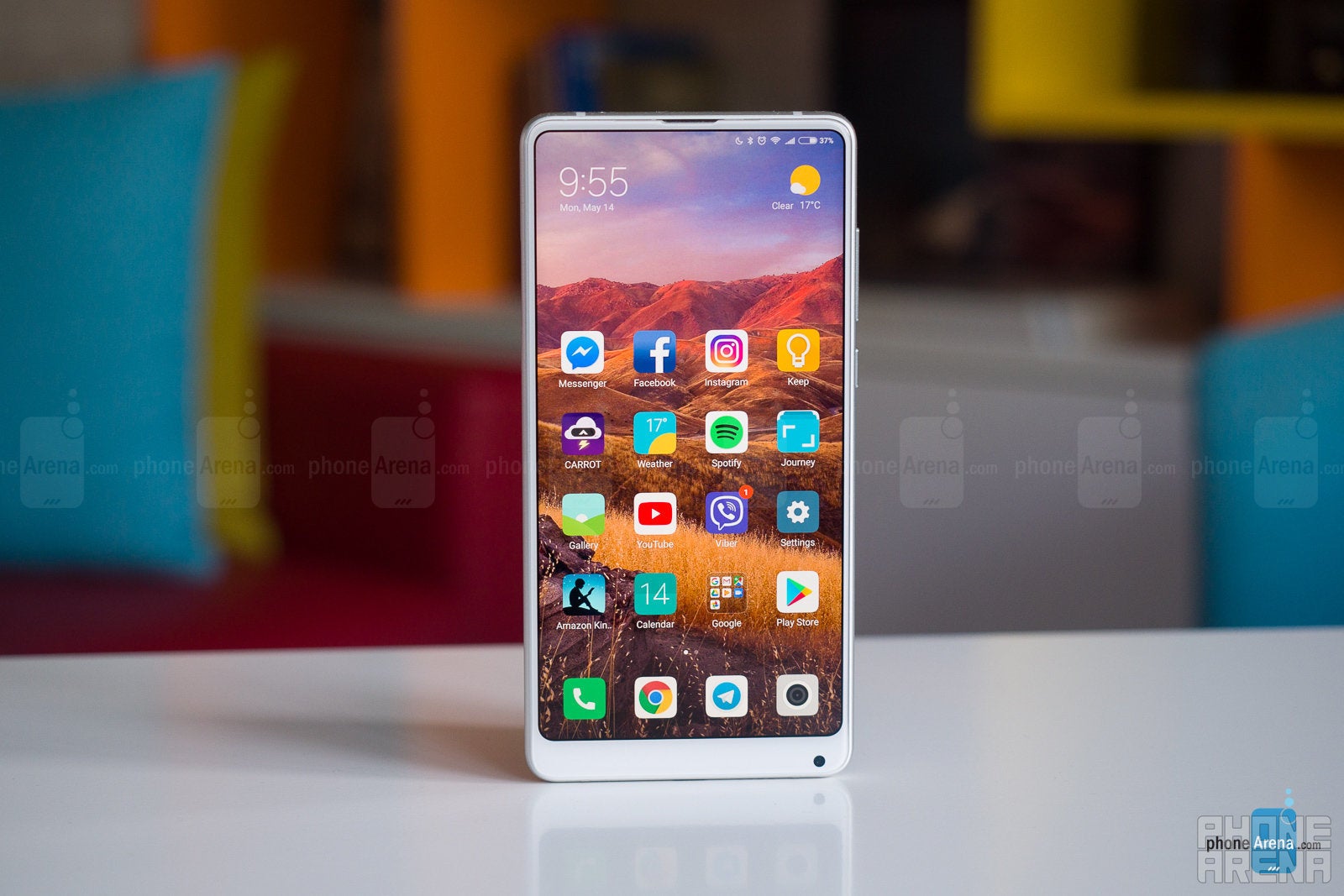 There is something else special about the Mi Mix 2s' design and that is the very materials used to make the phone. The back in particular: it's a ceramic back panel, not a glass one like on most other phones, and using a ceramic back means that it is far less likely to scratch. Unfortunately, it is not shatter-proof, so be carefully not to drop the phone. And speaking of dropping the phone, we ought to mention that the Mi Mix 2s is devilishly slippery. It's not so much that it slips out of your hand, but it will slide and slip off most surfaces, so be extra careful where you lay it to rest or you might find it has slipped out and have it laying broken on the floor.
The beauty of a full-screen phone is that there are no buttons up front, nothing but the display. Well, almost nothing in this case, as the Mi Mix 2s features its selfie camera strangely placed on the bottom right. This decision is driven by necessity: display driver components are located at the bottom and that's why you have a bottom "chin" on most phones, and since there is no space at the top, Xiaomi just placed the camera on the bottom. You can easily turn your phone around when taking selfies to have a proper view of your own self, but still this is one little annoyance. While the original Mi Mix featured bone conduction for sound, the Mi Mix 2s has a traditional loudspeaker, a tiny one embedded at the top of the phone.
Everything else on the Mi Mix 2s is well built: the power and volume buttons on the right side feel reassuringly solid and have a pleasing click and travel, the fingerprint scanner on the back is impressively fast and accurate. On the bottom, you have a USB-C port for charging, as well as four drilled holes for the loudspeaker. And nope, there is no headphone jack anywhere on this phone, so you'd need to rely on USB-C or wireless for audio.
Overall, the phone feels solid, even on the heavy side, weighing 6.67oz (189g), but it also feels very slim (0.32", or 8.1mm) and while it is big, it is not excessively bulky.
In terms of colors, Mi Mix 2s comes in white with silver aluminum sides and accents (this is the one that we have for review), as well as in black with a matte black side and a gold camera accent. There is a special art edition of the phone with artwork from the British Museum as well, but you're unlikely to find that one outside of Asia.
Finally, we ought to mention that there is no special water resistance on the Mi Mix 2s, so keep it away from water.
Display
A beautiful 6-inch 2:1 LCD screen with pleasing colors. No notch!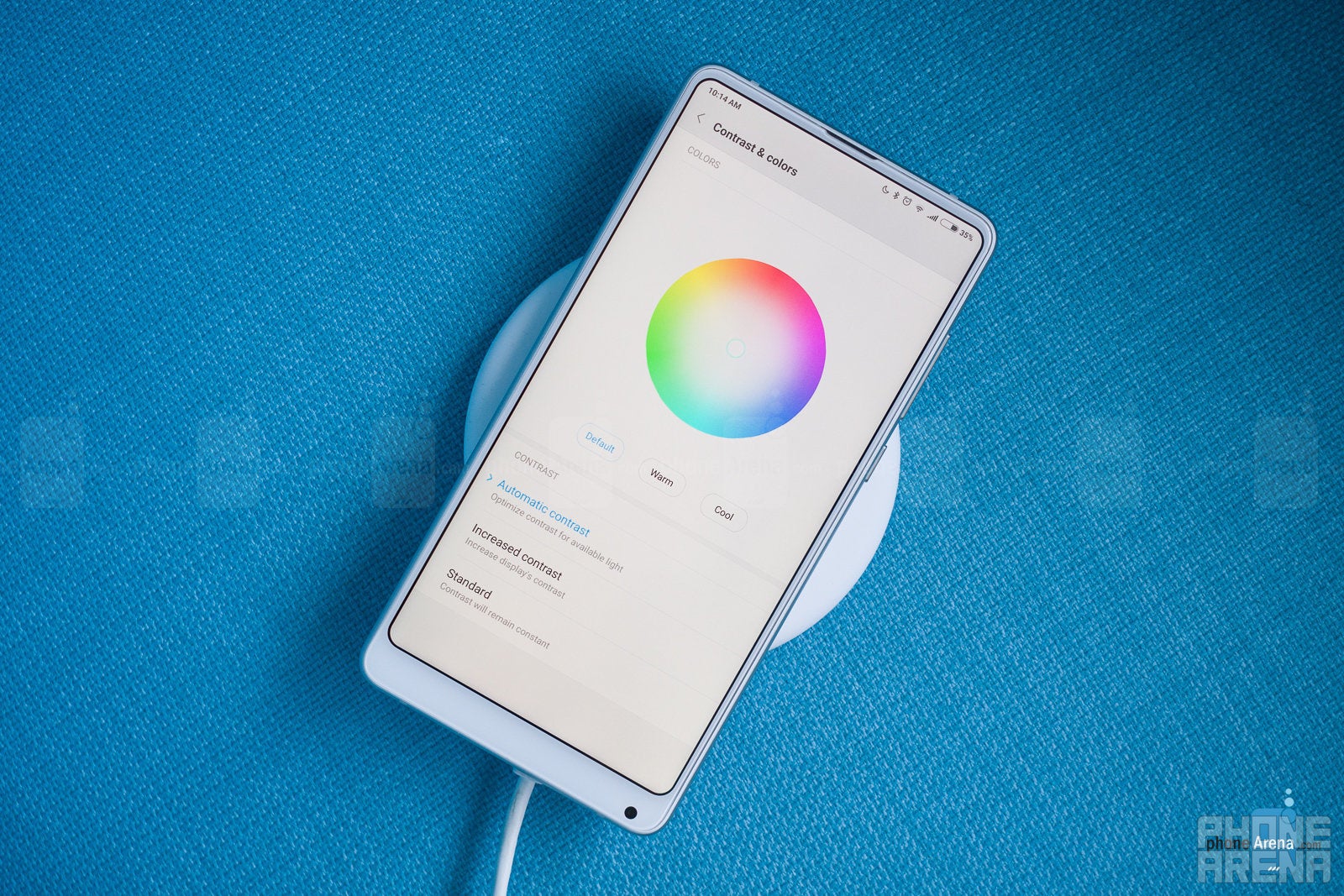 The Mi Mix 2s features a 6.0-inch IPS LCD display with a Full HD resolution (2160 x 1080 pixels) and a 2:1 aspect ratio.
There are two things that stand out here: first, it's an LCD screen, and secondly, it's the aspect ratio and the no-notch situation.
An LCD screen does not have quite the lush colors and perfect blacks of an OLED display, but the one on the Mi Mix 2s is really as good as an LCD screen gets. Its colors are balanced to near perfection and viewing angles are very good. An LCD screen like the one on the Mi Mix 2s also has a few advantages over OLED screens: it does not suffer from any ghosting, burn-in issues and you don't need to worry about the way it could deteriorate in a few years' time.
The 18:9 aspect ratio is also a standard screen aspect ratio commonly used in movies and without a notch in the way, viewing videos on the full screen is an immersive and pleasing experience.
In terms of brightness, the maximum level reaches just shy of 500 nits. This is not the brightest screen that we have seen, but still it is not too reflective and we could comfortably use it outdoors. At night, the minimum brightness level falls down to just 1 nit, which means that the screen can get very dim and is easy on the eyes when you use the phone at night.
You can see our detailed display tests below. Notice that the Mi Mix 2s' screen does not have different color modes like Samsung phones, for instance, but you can adjust the white balance (to warmer, colder, or any other) as well as contrast levels in settings.
Display measurements and quality
Interface and Functionality
MIUI 9.5 has the best gesture-based interface we have ever used on an Android phone. Also, it's just like gestures on the iPhone X.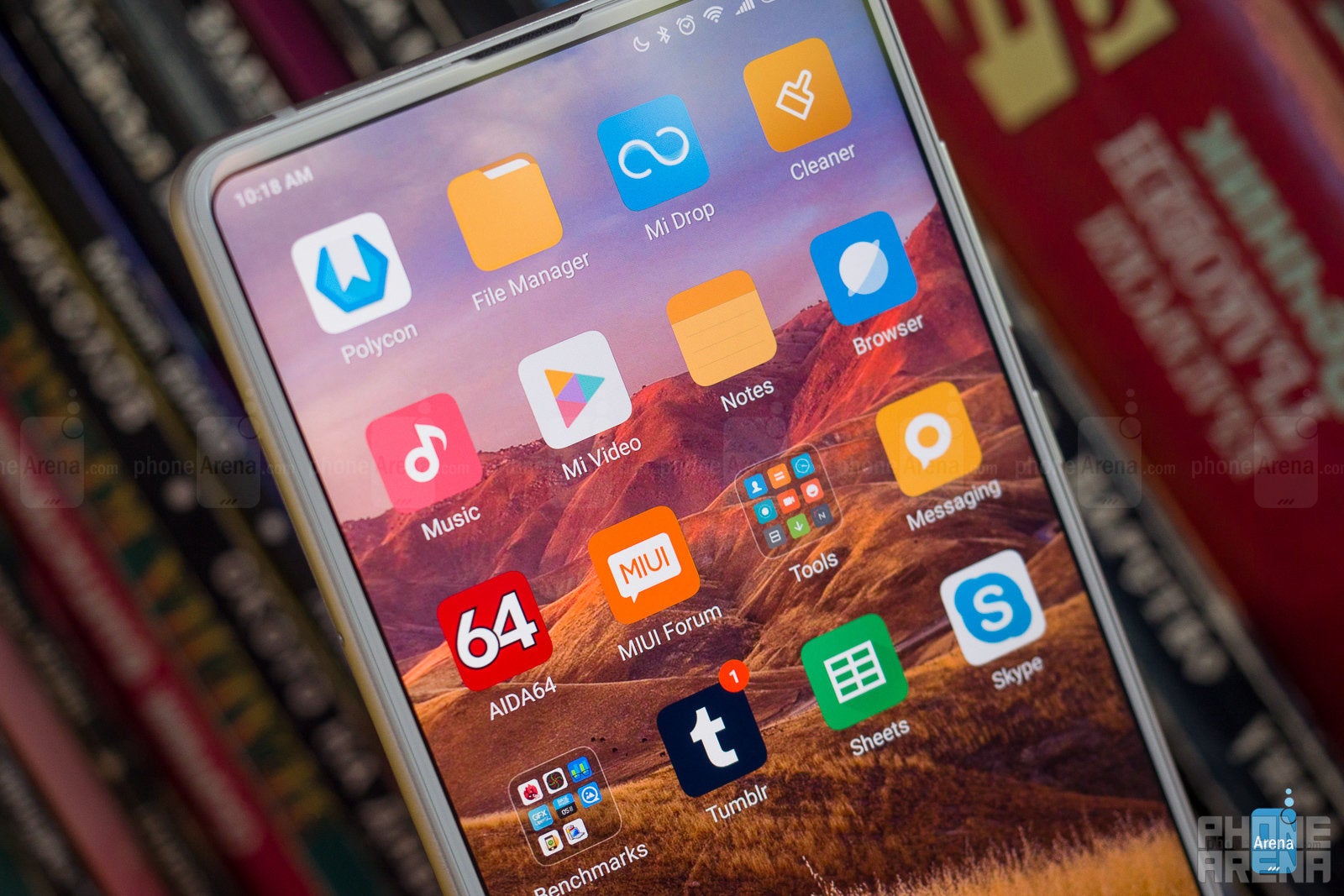 The Mi Mix 2s that we have for review features the MIUI 9.5 Global interface, the newest version of Xiaomi's custom interface, placed on top of Android 8.0 Oreo.
MIUI 9.5 is an iOS-like overhaul of the Android platform and it feels very, very different from stock Android.
The differences from "pure", Pixel-like Android start with the default look: there is no app drawer, the icons all have a strange, rounded rectangle overlay and the menus and settings are organized differently and take some getting used to.
But the biggest feature that MIUI 9.5 brings to the table in our opinion is gesture navigation. This hidden gem of an option is hidden in settings > system & device > full screen display, and you need to manually enable it (by default, you get on-screen buttons for navigation).
Gesture-based interfaces have been around for ages, even good old Palm Pre phones in the past had them, but most recently, the iPhone X brought them back in the conversation, and gestures on the Mi Mix 2s are a very, very close copy of gestures on the iPhone X.
Which is to say… they are great. There are four main gestures: swipe up from the bottom of the Mi Mix 2s to go back to the home screen. Swipe from the bottom and pause for a second midway and you get multitasking cards that you can swipe through. Here, you can also start the split-screen multitasking view. Then, you swipe from either the left or the right edge of the phone to the side to go back. And swipe from the top part of the left or right display edge to see hidden app menus. You have demos that quickly instruct you on how to use all these new gestures in the settings, but what is most impressive is the fluidity and smoothness of the execution: "it all just works". We have used gesture interfaces on a few other Android phones, but we can confidently say that neither feels as smooth and as well-made as on the Mi Mix 2s.
And then there are all the advanced, "power user" features available in MIUI. Let us list just some of them here:
Second Space password protected experience where you can just have a different set of apps and overall experience. For example, you can have your phone set up for work in one space, and for the rest of the day, you can have another space.
Ability to record all phone calls. MIUI records the calls using the microphones, and not on system level, but you don't need any third party app to do this and you can enable this as an option for all phone calls or record calls from the dialer menu per individual call.
Ability to lock screen apps. This is just brilliant: I have noticed that many Android phones are just too sensitive and would accidentally unlock in my pocket and when I finally take a look at the phone, the icons would be re-arranged. Or when I handle my phone to a person who is not well-versed in technology, they would often accidentally remove apps or change their places. This option allows you to lock the icons into place, so you don't accidentally change them.
Dual Apps. You can use two instances of the Facebook Messenger, or Skype, if you want to manage two different accounts at the same time.
App lock. Lock particular apps with a password.
Vibration strength adjustments
Remove carrier name from notification bar and only show it on the lock screen.
Custom shortcuts.
Customize LED notification light.
Audio Equalizer.
Customizable one-handed mode. You can resize your phone to three smaller sizes: 3.5 inches, 4 inches or 4.5 inches. You do this by swiping the home button to the side.
This really is a big list of features, but good news is that those features are implemented without being "in your face". They are discreetly available.
There are some annoyances as well. We spent half an hour trying to figure out how to add a second Google account to this phone, and it turns out that there is just no way to do this in the settings menu. You need to add a new account in any Google app and it would be added on a system level. Some default settings we also found inconvenient: too strong vibration when typing and other minor things, but we could easily fix those in settings.
Processor, Performance and Memory
Snapdragon 845. 8GB RAM. 256GB storage. In one word: powerful.
The Mi Mix 2s is a flagship that is all about extreme performance and it's no surprise that it features the latest and most powerful Qualcomm chip: the Snapdragon 845.
There are four different versions of the phone and all of them use this processor, but differ in the amount of RAM and storage that are offered. The most affordable of them all has 6GB RAM/64GB storage, and then you have a 6GB/128GB one, and an 8GB/256GB high-end option. There is also a special art edition of the phone, which also comes with 8GB of RAM and 256 gigs of storage.
Choose your storage option wisely because the Mi Mix 2s does not have a microSD card slot, so the storage you get cannot be expanded any further, and if you shoot a lot of video or generally have high storage needs, it might be wiser to go with a 128GB or 256GB version.
So what about the actual performance of this phone?
Well, we've already said that gestures were the smoothest and most fluid we've seen on Android, and overall the performance also feels very, very fast and effortless.
From playing games on that big screen to doing more intense task, this phone is a beast. You can see the performance benchmarks below that confirm what our eyes are seeing.
Internet and Connectivity
Xiaomi has equipped the Mi Mix 2s full of global 4G LTE bands, so frequent travelers are unlikely to struggle from lack of connectivity.
However, there are some differences between bands on different models, so make sure that you are buying a global version (unless you are in China, of course) and make sure you double-check whether your particular carrier relies on standard bands, or uses some newer bands that might not be supported by this phone. You can check our full specifications for the Xiaomi Mi Mix 2s to find out about each and every LTE band that this phone supports.
The Mi Mix 2s is a true dual SIM phone. You need to use the SIM ejector tool in order to open the dual SIM tray, located on the left side of the phone, and then you can freely use the Mi Mix 2s with two SIM cards at the same time.
In terms of other connectivity options, you get dual-channel Wi-Fi, support for satellite positioning systems GPS, BeiDou, Galileo and Glonass, as well as Bluetooth 5.0 and NFC for wireless payments. Unfortunately, you only get USB 2.0 speeds via the USB-C port.
Camera
Powerful camera in and out.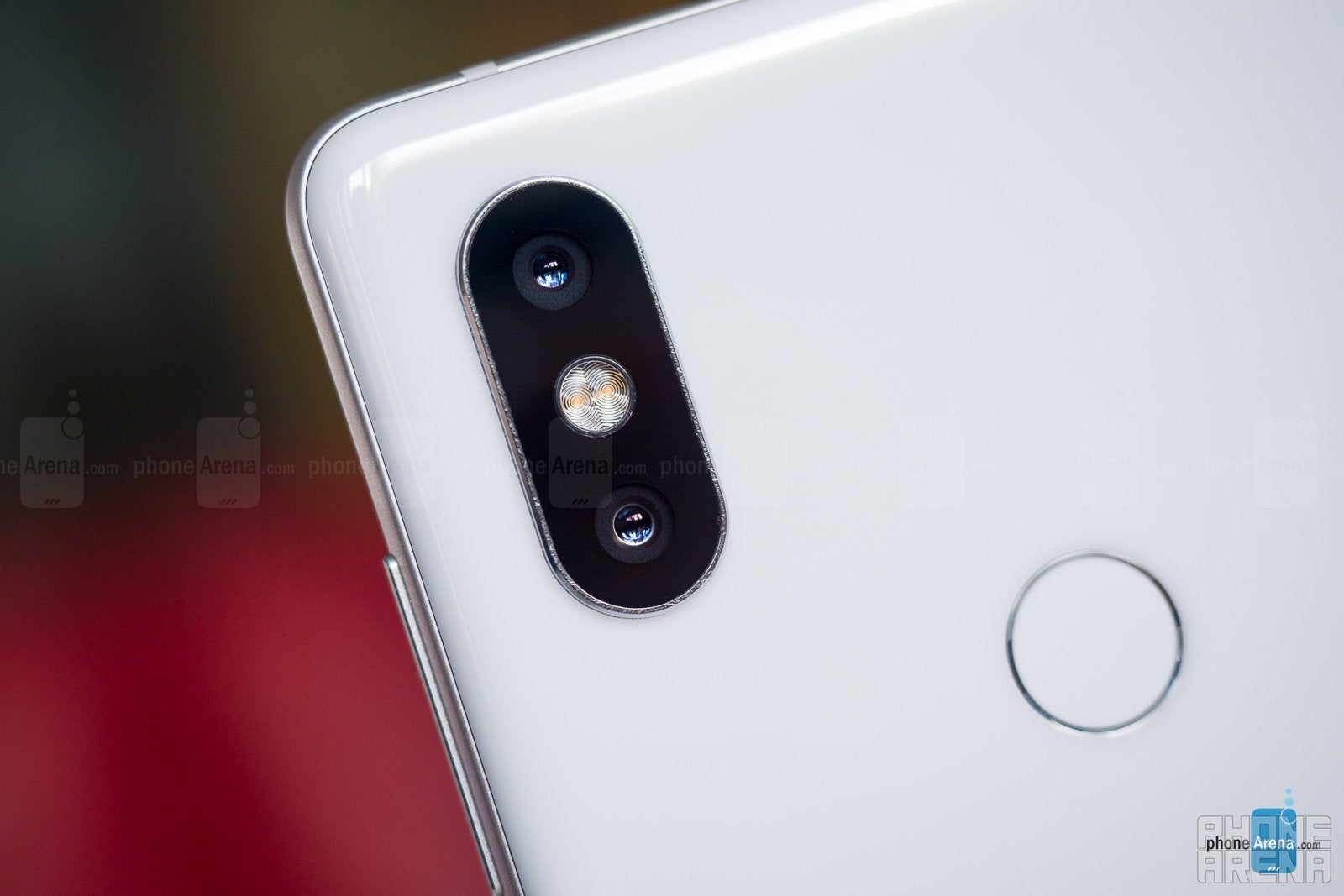 The Mi Mix 2s features a dual camera system that looks a lot like the camera on the iPhone X: compare the two side by side and the similarity will not go unnoticed. The Xiaomi follows the iPhone in the very camera setup it uses also: it has a secondary, 2x telephoto camera with support for portrait mode. Up front, the selfie camera is positioned on the bottom right of the phone, so you need to rotate the phone upside down to get a good angle for a selfie shot.
Camera geeks, here are the specs you are looking for: you get a 12MP Sony 1/2.6-inch sensor for the main camera with a 26mm, F1.8 aperture lens, while the secondary, "tele" one has 1/3.4-inch 12MP sensor with a 46mm lens with F2.4 aperture. You get optical image stabilization (OIS) only on the wide camera, but not on the tele. Up front, there is a 5-megapixel shooter coupled with an f/2.0 lens.
Hint:
Go into settings > lock screen & password > launch camera, and toggle the "press volume down button twice to launch camera" shortcut.
The camera app itself is straightforward and easy to use: it's laid out almost exactly like the camera app on the iPhone, with various shooting modes that you swipe through on the bottom part of the display, just above the shutter button.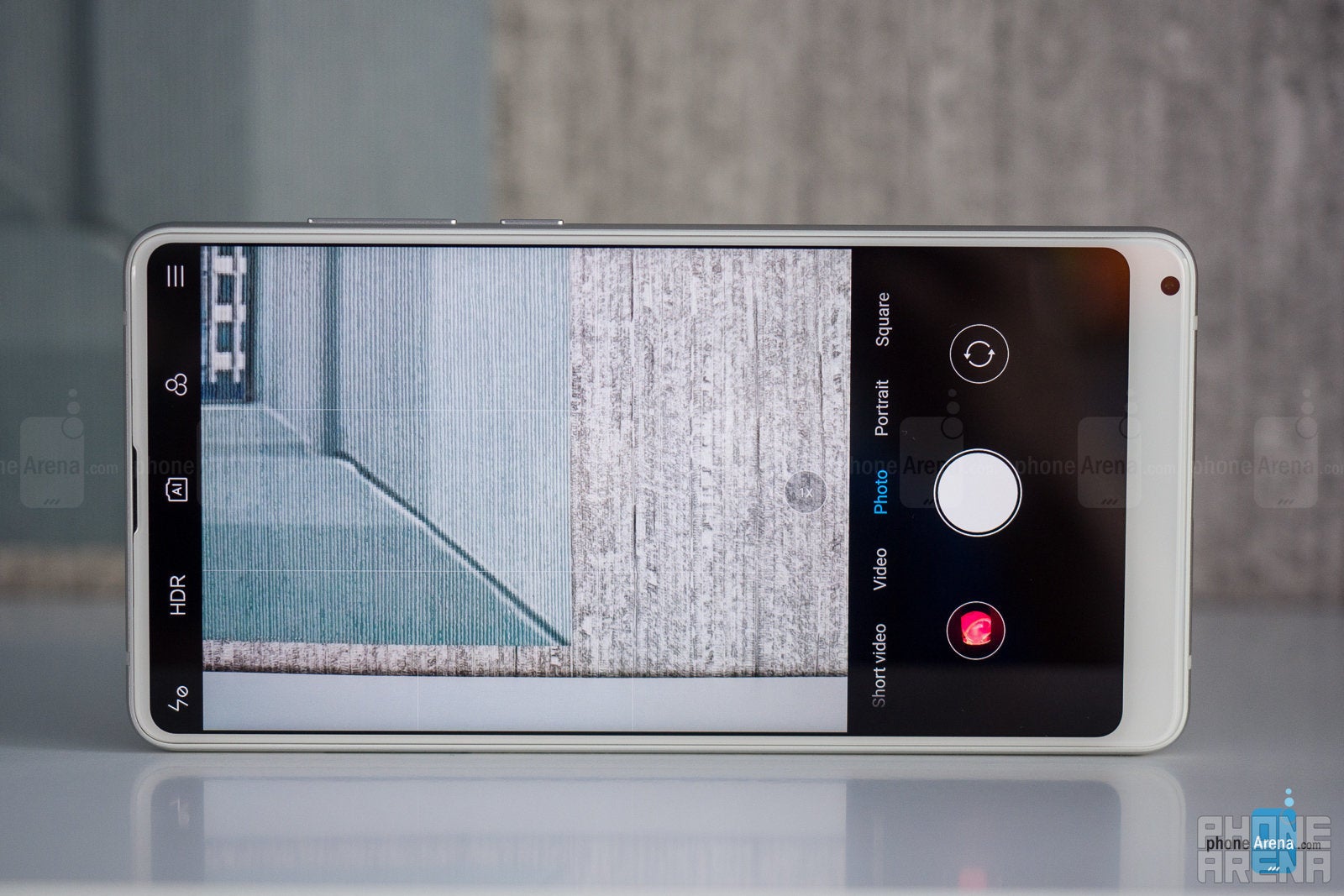 But go into settings, and you find some very powerful advanced features that Xiaomi has added that will please photo enthusiasts. For example: you can turn camera sounds on or off, save camera settings or have them reset every time, you can add a time stamp, scan QR codes, shoot in 4:3, 16:9, or 18:9 aspect ratio, configure to use the volume buttons as shutter keys or as zoom modifiers. And then some more: you can select the frequency of the camera to 50Hz or 60Hz. This is particularly important for video: in Europe and most of the rest of the world, electricity works at 50Hz and many smartphone cameras set to 60Hz by default will result in flicker-y video. And you can also control overall image settings like contrast, saturation and sharpness. Quite the big list, don't you think?
Image Quality
All of this would not matter if images did not turn out well.
Thankfully, they do. They turn out very, very well.
But here is the thing: they also turn out surprisingly, eerily similar to photos from another popular phone. And yes, you guessed it right: that's the iPhone X. The iPhone X has consistently been at the top of our rankings when it comes to day photos, so that's a great thing, but we're just left pondering whether this is copying and whether it is morally just to copy the iPhone color science.
We'll leave those doubts aside, though, and we will let the photos speak for themselves below. Since there are so many similarities, it's easier to point out the differences: while the iPhone X captures greens that have a cold tone to them, the Xiaomi captures greens with a warmer tonality; the blue skies in an iPhone have a very distinct color, and on the Xiaomi it's a similar tone, but with a bit more saturation; and finally, Xiaomi photos are not quite as strongly contrasted as the iPhone's.
You also get an "AI" mode, which boils down to scene recognition and boosting the colors in a particular way. You can use it to give your photos an extra boost, but we found that even without it pictures look great and you get a bit more predictable colors and overall look.
At night and indoors, when it gets dark, images come out pretty good as well. You get a fairly sharp image with less noise than some competitors, but the dynamic range is just slightly short of the industry-leading smartphone cameras like the Google Pixel 2 XL. Still, the Mi Mix 2s makes an excellent showing at night as well.
You also get a dedicated Portrait mode on the Mi Mix 2s and it works very well. You get good separation between the subject and the background, and you get a decent amount of detail as well. It's not perfect as you get occasional misfires, but we are yet to see a perfect portrait mode implementation. Take a look at a few portrait samples below.
Selfies
The 5-megapixel shooter does a decent job, but if you have a large group of people, it might not be quite as wide to fit the whole group. And since you've got such an excellent main camera, we often just used the main camera, shooting blindly in our direction to get even better selfie shots. Of course, that's a bit of a hit-and-miss approach, but you might want to try it for the fun.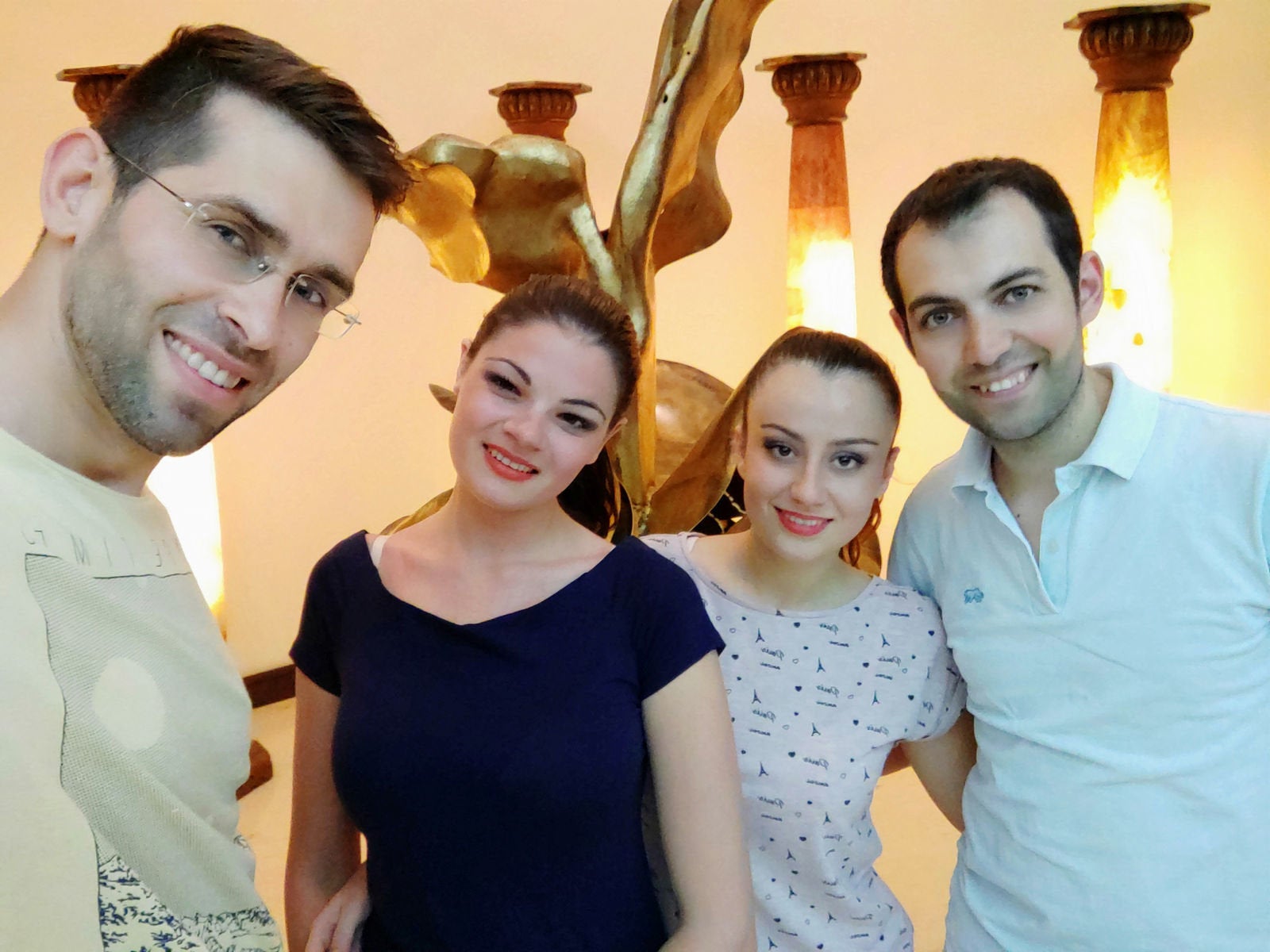 Video
When it comes to video, you can shoot up to 4K at 30 frames per second here. There is no 4K60 option that phones like the iPhone 8/X and Galaxy S9 have, just in case you are wondering.
Videos come out with the same pleasing colors that you get in still images. You get optical image stabilization AND electronic stabilization on the main camera, and footage turns out fairly smooth. The phone also supports continuous auto-focusing that works fairly quickly. Of course, if 4K video takes up too much space for your liking, you can switch to 1080p30 or 720p30. You also have a slow motion mode, where you can shoot 1080p at 240fps for an 8x slow-down effect. You can also record time lapse with custom intervals between shots.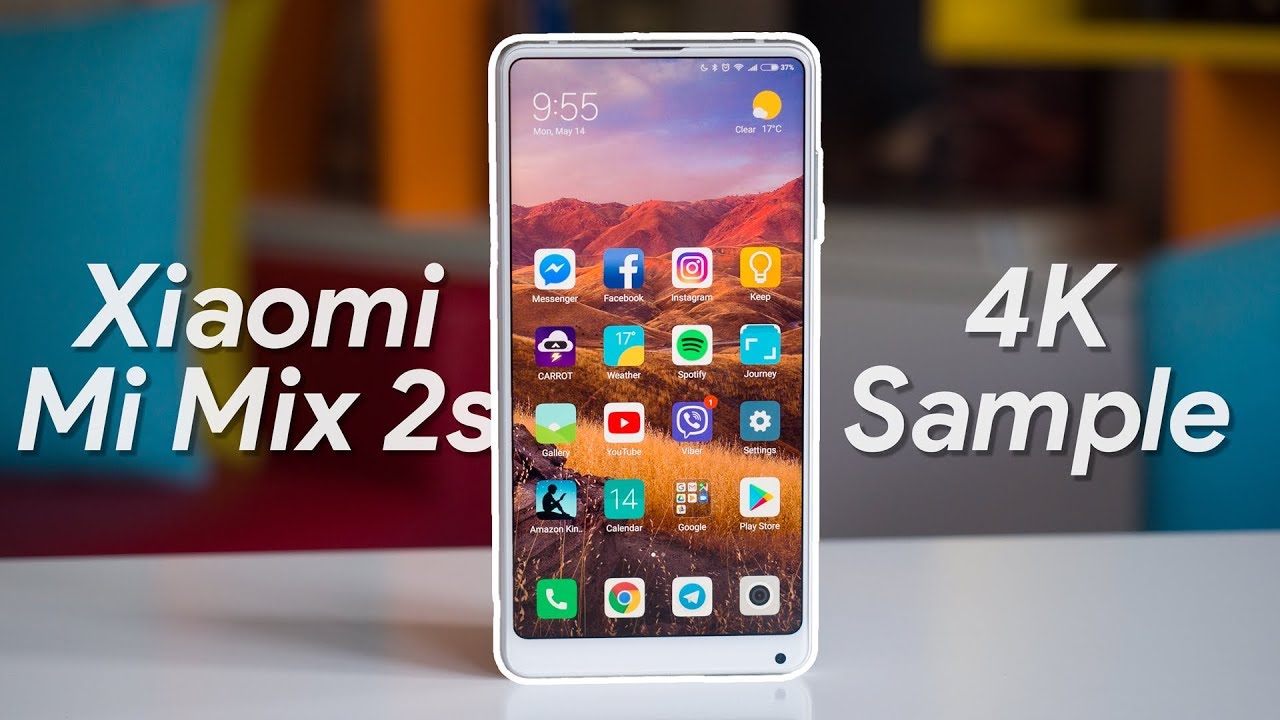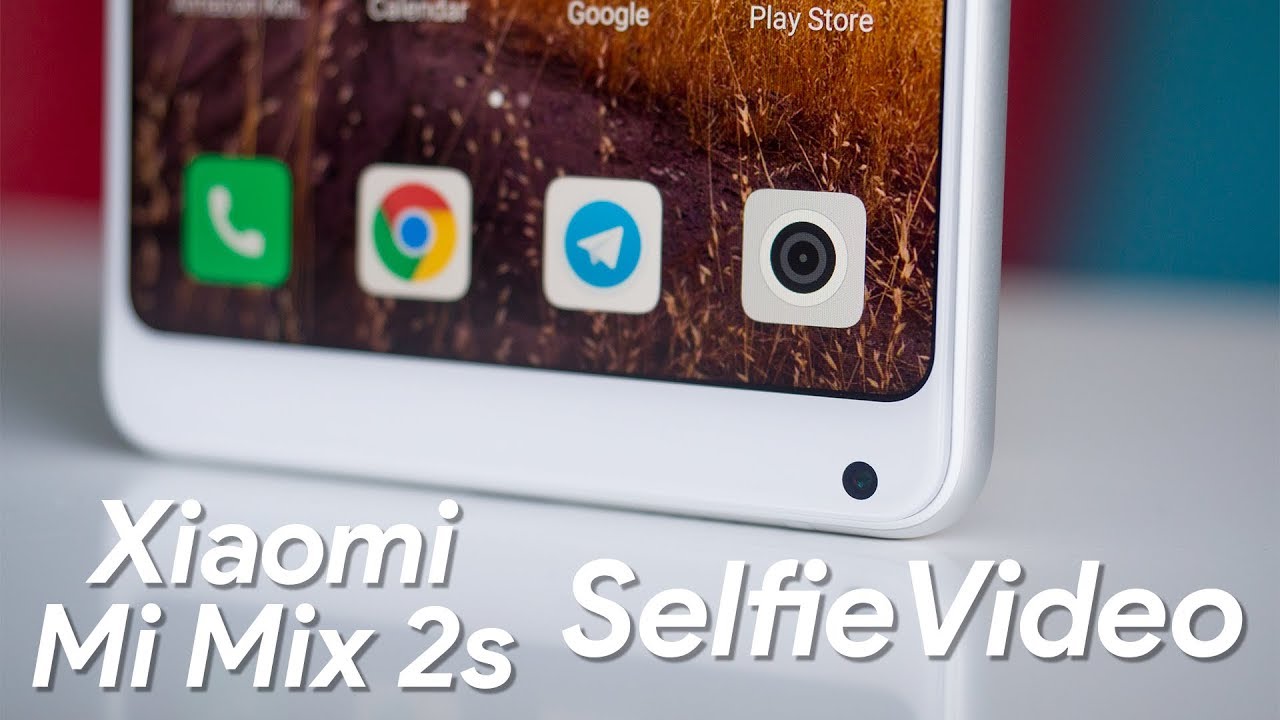 Sound quality
Neither great, nor bad: unremarkable.
One of the biggest overall improvements in flagship phones in 2018 seem to come in the audio quality coming from the phone loudspeakers: the latest iPhones, Samsung Galaxies, LG phones, Google Pixels, even OnePlus, all of them deliver loudspeaker audio that exceeds what you expect from a smartphone.
That's why we were eager to take a closer listen to the loudspeakers on the Xiaomi Mi Mix 2s. Yes, there are two of them: one firing towards the bottom with a fuller sound profile and a tweeter embedded in the earpiece that takes care of higher pitched sound. Both work in concert, but the audio quality you get is just average. It's neither great, nor bad, but it's unremarkable, and it's definitely not on par with those phones we mentioned earlier that have raised the bar. What it lacks is both depth and punch, it's just a bit too feeble.
Interestingly, Xiaomi has also ditched the 3.5mm headphone jack and you have to rely on a clunky adapter, on the still-hard-to-find USB-C headphones or on wireless buds. You now have quite a few wireless options, but still prepare to pay around $150 to get a pair of good wireless buds.
Good news for music enthusiasts is that the Mi Mix 2s comes with various sound tweaking options, including a built-in equalizer with fine-tuning options.
Call Quality
The original Mi Mix used bone conduction for a truly bezel-less design uninterrupted by an earpiece, but the quality it delivered was not ideal. We're glad that Xiaomi made the switch and it includes a tiny earpiece, discreetly placed at the top of the phone for much better quality.
And despite various surprising issues with call quality on top phones this year, we found the Mi Mix 2s to deliver a solid sound in calls on both ends of the line: we could hear our callers crisp and clear, with sufficient volume, and on the other line call quality was good as well.
Battery life
It will last you a full day, but not much more. Wireless charging is a nice extra, though.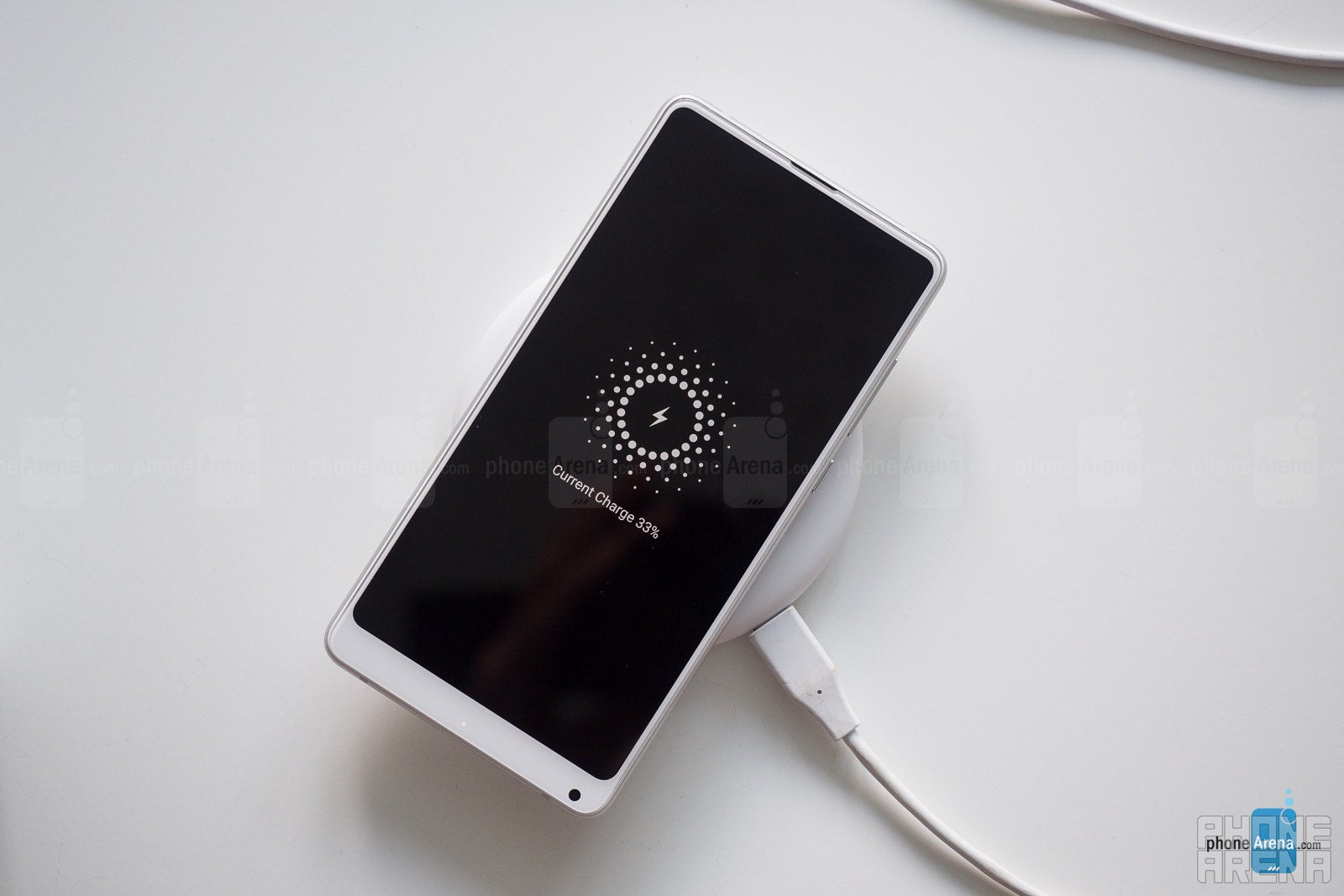 The Mi Mix 2s sports a 3,400 mAh battery and to find out how much it really lasts, we ran our proprietary battery test, so you can easily compare its longevity against other phones.
In this battery test, the 2s scored a result of just slightly shy of 8 hours. Interestingly, this is actually a lower score than that of last year's Mi Mix 2, which scored 9 hours and 5 minutes. Overall, this result is slightly below the average for a 2018 flagship. You can see right below that it is about on par with the Galaxy S9, but behind most other flagship phones this year.
In real-life usage, we had no problem getting through the day with the Mi Mix 2s, but we would not risk going more than a day without a trip to the charger.
Good thing is that the Mi Mix 2s supports Qi wireless charging and you can use just about any popular third-party wireless charger to keep it juiced up. We found this very convenient.
Xiaomi also sells its own wireless power mat. It's a tiny, pebble-shaped object with a nice, grippy rubber texture and it charges the phone nicely. One big convenience with the Mi Mix 2s and wireless charging is that the phone instantly detects when it is not properly placed on the charger and it will prompt you to reposition it so it can get a good charge.
Price and Alternatives
The Xiaomi Mi Mix 2s is currently only sold in Asia, but chances are that it will soon be coming to the company's growing presence in Western markets. In China, Mi Mix 2s prices start from 3,300 Chinese yuan, the equivalent of $518 (€436), which we feel is a great price. Keep in mind that if you import it from third-party resellers, you will pay a higher price, typically around $630 for the base model.
Below is a full breakdown of the different models of the phone and how they are priced in China:
6GB RAM/64GB storage 3,300 yuan, or $518
6GB RAM/128GB storage 3,600 yuan, or $567
8GB RAM/256GB storage, 4,000 yuan, or $630
8GB RAM/256GB storage, Art Edition, 4,300 yuan, or $677
Even if you buy the phone at third-party resellers that charge inflated prices, we find that this is still a very good deal.
Your alternatives?
If you are looking for slightly "more affordable flagships", if such a thing even exists, you should look at the upcoming OnePlus 6, and also the LG G7 ThinQ with its secondary, super-wide-angle camera and a dedicated Google Assistant button.
Other Mi Mix 2s rivals include the costlier
Apple iPhone X
,
Samsung Galaxy S9+
and the
Google Pixel 2 XL
. The iPhone has the iOS ecosystem as its main advantage, the Galaxy has the Super AMOLED screen as its trump card, and the Pixel 2 XL has the stock Android and fast update advantage.
Conclusion
At the end of the day, the
Xiaomi Mi Mix 2s
is an outstanding phone.
Its custom MIUI interface takes some getting used to, but the big and beautiful, notch-less display, the capable camera, the well-executed gesture navigation and the overall sophistication and elegance of the design more than make up for it. If you are willing to deal with something new and different, and if you happen to live in a country where Xiaomi actually sells its phones, you should definitely consider buying the Mi Mix 2s.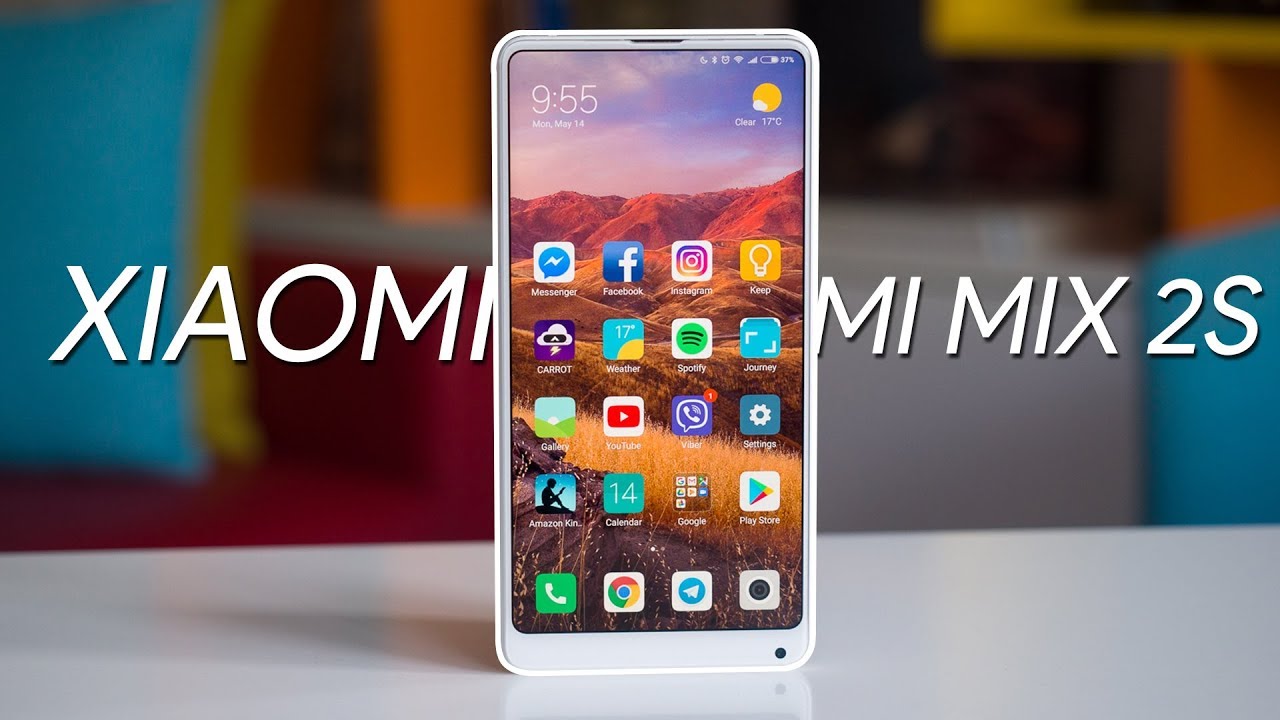 Recommended Stories