This is the latest teaser for Nokia's event in Abu Dhabi
21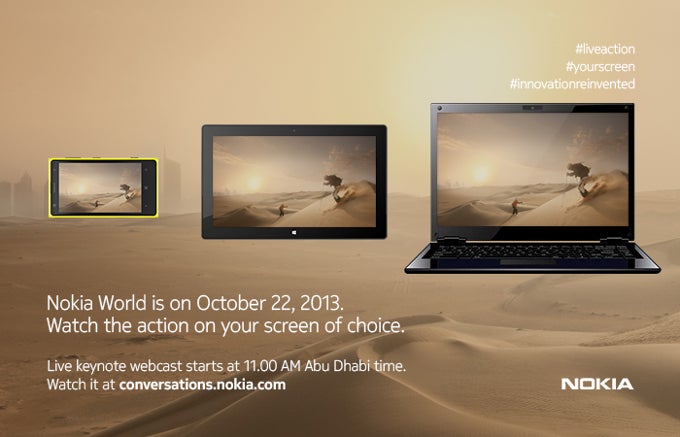 Nokia has shared a new teaser image with us, which is all about its World event that's going to take place in Abu Dhabi on October 22. Interestingly, the picture includes a smartphone, a tablet and... a laptop.
Now, we probably don't want to look too much into this, because it seems a bit unlikely for Nokia to unveil a notebook right now, but who knows. The teaser reads: "
Nokia World is on October 22, 2013. Watch the action on your screen of choice.
" This could be a potential hint about the devices Nokia is going to unveil, but it could also be just an illustration showing us that the webcast will be streamable on all types of devices - including smartphones, tablets and laptops.
Nokia is currently expected to unveil the Lumia 1520 phablet, a more affordable Lumia model, a Windows 8.1 RT tablet and a bunch of new Asha feature phones with touchscreens. You can read our
complete Nokia World rumor round-up
for more details.
What do you think: can a laptop save Nokia, or now that it's in Microsoft hands, nothing can save it? Sound off in the comments below!