Nokia World: what to expect from Nokia's biggest event
60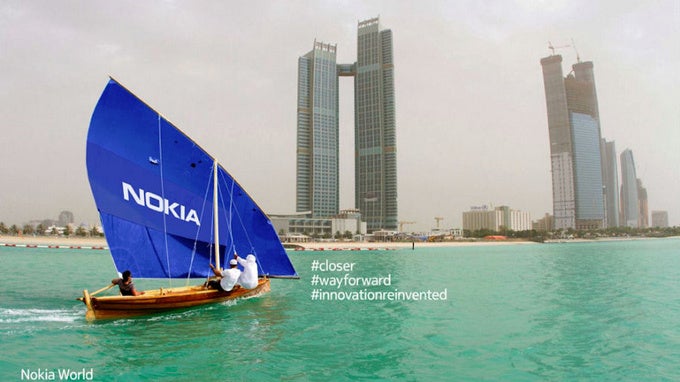 Nokia World is coming up in just three weeks and expectations are sky high as all rumors agree that Nokia is preparing to unveil an onslaught of devices. We expect to see Nokia lift the cover off six new devices on October 22nd in Abu Dhabi - a large screen phablet, a budget smartphone for the market, a tablet, and three new feature phones.
Nokia Lumia: new flagship, affordable phone and a tablet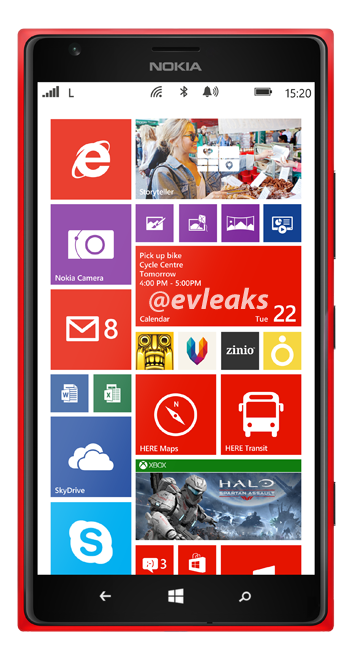 Rumored Nokia Lumia 1520 for AT&T
The device all eyes are on is the mysterious
Nokia Lumia 1520
. It's expected to become Nokia's first large-screen phone fitting the niche Samsung opened with the Galaxy Note. Moreover, it will feature a PureView 20-megapixel camera with huge aspirations. Interestingly, the Lumia 1520 is expected to come to both AT&T and Verizon, America's two largest carriers.
We're hearing early rumors that the device will arrive in two very different models. The AT&T model is expected to feature a humongous 6-inch display, while the Verizon model will sport a more reasonable 5" screen, both with a 1080p resolution. The Verizon variation will also get a completely different name - the
Nokia Lumia 929
, but is expected to be the same device under the hood. Early whispers point out the device will pack top-shelf hardware as Snapdragon 800 with Adreno 330 graphics are in the cards.
The
Nokia Lumia 2520
tablet has also just surfaced in graphics benchmarks, and it appears to be a good device that will not shoot for the stars. The screen resolution is likely to be around 1366 x 768 pixels, just like the one on the first generation Surface tablets, and less than we're used to seeing in today's high-end models. Still, under the hood, chances are we'll see Snapdragon 800 with Adreno 330 graphics that will just fly at that relatively low resolution.
The third surprise from Nokia should come in the form of the
Lumia 525
. The Nokia Lumia 520 became the most popular Windows Phone handset ever and the Lumia 525 is expected to become its successor. We know nothing more than that, but we assume that we'll see something similar to the 4" 480 x 800 pixel display on the Lumia 520 (hopefully a brighter display on it). Some sources also say the Lumia 525 will be a device focused on music and might ship with a more advanced than usual headset. This will probably not be a set of earplugs, but instead over-the-head headset.
Three new Ashas and accessories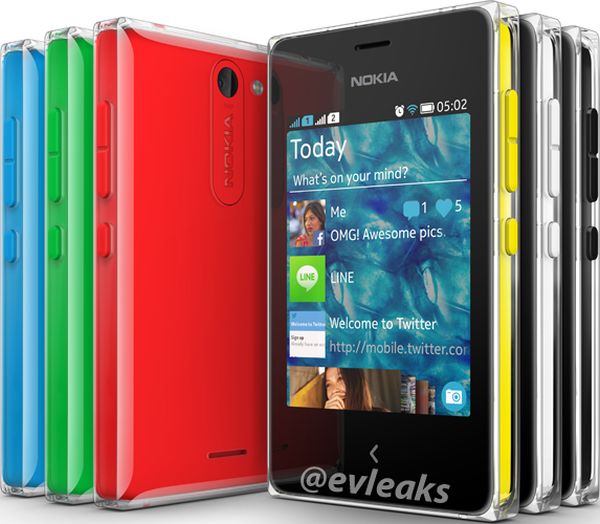 Alleged Nokia Asha 502
The other three devices are all from the Asha series, hence feature phones. The trio is said to go by the names
Nokia Asha 503, 502 and 500
. The devices are expected to come in a bold new design with translucent dual-shot color panels. As with all feature phones, we're talking about extremely basic phones with run-of-the-mill hardware (they're all missing a flash light as per leaks). Nokia has instead included some cool software like Whatsapp that by all looks will come pre-loaded on these Asha handsets. They will also likely come with dual SIM card support. The release date for the Asha 503, 502 and 500 are unknown, but we'd place our bets on them arriving sooner as Nokia will probably rush to have some of the models available for the Holiday shopping season. The Ashas are extremely affordable devices, probably carrying prices of around $100 or less.
This is not all. Nokia will probably silently release new accessories as well around then. We have already seen at least one alien-looking colorful accessory that we don't really know what to make of, but it surely looks alluring. Nokia has been designing some top notch accessories lately, but they are not very likely to get a prominent place during the keynote.
Nokia's last big event as an independent phone maker
With six new devices in tow, Nokia will likely have a very news-packed and intense event in just three weeks. Nokia World 2013 will also probably be the last event for Nokia as an independent phone maker as the
Microsoft acquisition
is expected to happen sometime in 2014. We expect to see Stephen Elop conduct another flawless presentation as he's done in the past with the help of Nokia's feature phone head Jo Harlow, and the focus should be on the Lumias. Remember that all this info comes from leaks and rumors, and nothing is set in stone just yet, so take it with the usual grain of salt.
With that in mind, which device are you most excited about?