"The most affordable touch device ever" announced at MWC – meet the Nokia Asha 230
7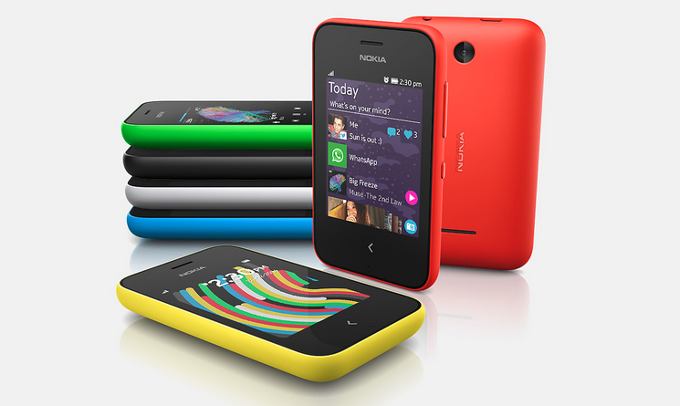 Apart from the much anticipated
Nokia X
and its unexpected peers, the Nokia X + and the
Nokia XL
, the Finnish manufacturer introduced a plethora of other devices, one of which is a fresh member to the Asha family – the Nokia Asha 230. Touted as the "most affordable touch device ever", this Asha feature phone costs just $62 (€45). It will "start rolling out immediately" in select regions, such as Asia-Pacific, Europe, India, Latin America, and Africa. The feature phone will come in two variants – a single and dual-SIM ones.
The Nokia Asha 230 comes with a new
motion
application for Asha devices, which allows users to create their own wallpapers. Nokia's cheapest Asha phone also comes with the signature UI of the Asha family, Fastlane, which allows fast-switching between apps and features. Apart from Fastlane, a number of popular social networking and messaging apps, such as Twitter, Facebook, Whatsapp, Direct Chat, and Viber are available for the feature phone. Other popular apps, such as WeChat, Vine, and Line are also on board.
Thanks to an upcoming software update, future users of the Nokia Asha 230 will receive 7GB of free storage on the recently-rebranded Microsoft OneDrive cloud service. An automatic photo backup to OneDrive will be implemented, as well.
Hardware-wise, the most-affordable Asha device features a full-touch display with a resolution of 240 x 320 pixels. With a size of 2.8 inches, it has a
pixel
density of no more or less than 142 ppi. The Asha 230 comes with 64MB RAM and 256MB of native memory. The storage space is expandable up to 32 GB via a microSD card. The Nokia 230Asha comes with a 1.3MP camera on its back. A 1020mAh removable battery powers the affordable device and it is stated that users can squeeze as much as 42 hours of battery life during music playback.
The Nokia Asha 230 is not just affordable, but compact, as it has dimensions of 3.9 x 2.30 x 0.51 inches and tips the scales at 89 grams. The feature phone will be avaialable in black, white, red, yellow, green, and blue.
It is important to say that the manufacturer's suggested retail price of $62 (€45) may vary after taxes and subsidies are applied.