Nokia X, the first Nokia Android smartphone, is now official: no Google Play, "a gateway to Microsoft's cloud, not Google's"
98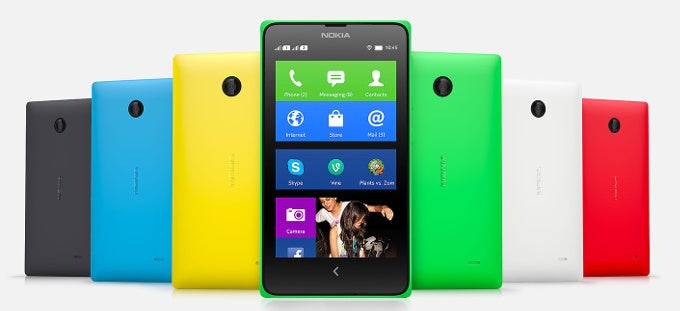 It's finally happened: the
Nokia X
, the first Nokia Android smartphone is here. It is not just one smartphone, though, the Nokia X kicks off a new family of devices for the Finnish company that will be more affordable than its primary Lumia Windows Phone series.
The most prominent feature of the Nokia X is the fact that it runs on a "forked" version of Android. Nokia took the open source parts of Android from the Android Open Source Project (AOSP) and built a new platform on top of it with signature Nokia and Microsoft experiences like a tile-based interface, Skype and tight OneDrive integration. Nokia's chief executive Stephen Elop made sure to make it perfectly clear: the Nokia X is a gateway to Microsoft's cloud, not Google's.
Indeed, the Nokia X lacks the Google Play store with its over million apps, it lacks Google's Maps, Gmail, Chrome, Drive and all the others. Instead, it comes with a curated Nokia Store that will be pretty much empty when the phone launches (but Nokia expects to curate hundreds of thousands of apps), and it will support third-party web store like the Yandex Store, popular in Russia. It also features Microsoft's and Nokia's suite of applications like Here Maps in lieu of the Google ones. In addition, Microsoft is throwing a Skype and OneDrive promo with Nokia X devices, giving away one month of free unlimited Skype service and 10GB of OneDrive cloud storage.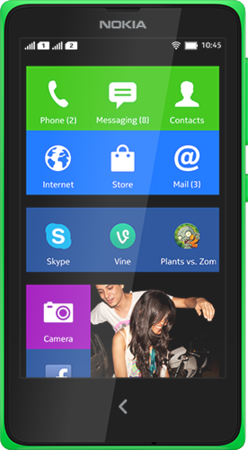 While you cannot directly install apps from the Google Play Store on the Nokia X, you can still sideload Android applications from APK files, so it should not be too hard to almost completely change the experience on the Nokia X to a stock Android one via one of the many launchers available out there.
In terms of specs, the Nokia X is a decidedly affordable smartphone that impresses with price, not with ground-breaking silicon. It comes with a 4-inch 480 x 800-pixel capacitive IPS LCD touchscreen, a 3-megapixel fixed-focus camera and a 1GHz dual-core Snapdragon S4 chip. With 512MB of RAM and 4GB of storage, it looks decently powerful for its price.
The device comes in one of six colors, and all of them are typically vibrant and cheerful in a typical Nokia fashion. The Nokia X features only 3G connectivity with download speeds of up to 7.2Mbps. It also has a 1500mAh battery with quoted talk time of over 10 hours.
Nokia today also unveiled the Nokia X+ which seems to differ only in the fact that it features slightly more RAM - 768MB. Both devices support dual SIM connectivity. The third member of the Nokia X family is the Nokia XL, an affordable phone with a 5" display.
The Nokia X will be released immediately, launching in Eastern Europe, Asia, South America, and in other growth markets, but it won't be shipping to the United States, or Western European countries. The Nokia X price is set at the very affordable 89 euros, and the Nokia X+ will set you back 99 euros.
source:
Nokia