The black Nokia Lumia 1520's back cover utilizes recycled CDs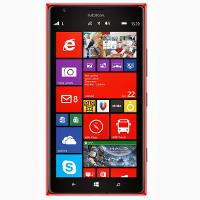 More than a year ago, Nokia launched the eco-friendly Nokia Lumia 820 and Lumia 920, which were made from recycled bio-plastics that didn't pose threat to the environment. Both devices were allegedly 100% recyclable and all of their parts could be recovered and reused. Although the Finnish giant uses a lot of recycled materials for all of its devices, the Lumia 820 and Lumia 920 were indeed the first devices from the Lumia series to be completely 'green'.
Well, it's 2013 now and it looks like Nokia's flagship phablet, the Lumia 1520, has received the 'eco-therapy' as well. In a recent cartoonish YouTube video, Nokia depicts the life and death of a compact disk, which is then recycled into the polycarbonate back shell of the device. This way the Lumia 1520 finds its place among its environmentally friendly peeps - the Lumia 820/920 and the Asha 311. It looks like only the black version of the phablet utilizes recycled CDs, though.