The Windows Phone Vine app says goodbye; dry your eyes and try to move on
27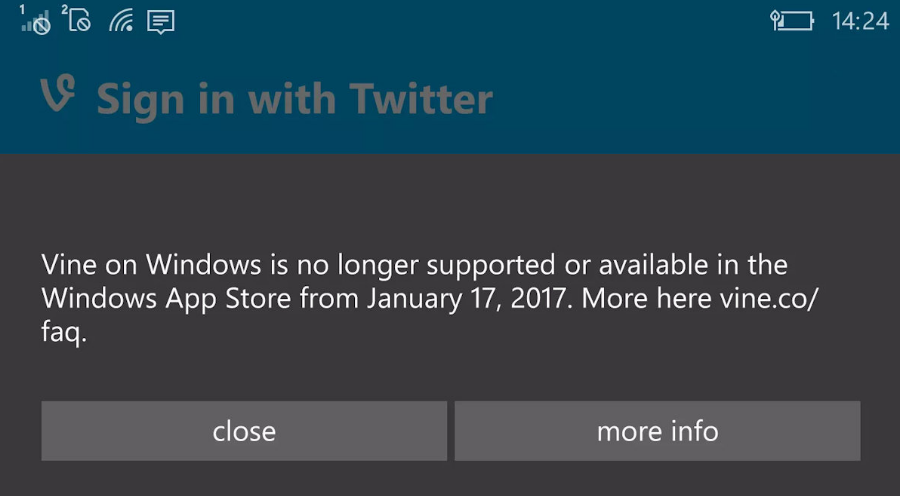 Vine shuts down starting this Tuesday; will its replacement be offered to Windows Phone users?
Twitter already announced months ago that the Vine app will no longer be available starting on January 17th. The app allowed users to create 6-second looping video clips, which seemed like a perfect fit for today's microwave world.
Replacing Vine on iOS and Android will be Vine Camera
, a camera app that will allow users to shoot 6.5 second loops and post them on Twitter. So far though, it is unclear whether the Windows Phone version of Vine will also be replaced by Vine Camera.
On Windows Phone devices, open the Vine app and you will see a goodbye message that reads, "Vine on Windows is no longer supported or available in the Windows App Store from January 17, 2017. More here vine.co/faq." Unfortunately, the FAQ page doesn't tell us whether Windows Phone users should be expecting Vine Camera to replace Vine.
Vine launched on Windows Phone in November 2013; as we noted at the time,
it beat a number of more popular apps to the platform, including Instagram
. While it didn't grow on smartphone users the way that Twitter thought it would, Vine Camera will allow the looping 6.5 second video to live on. Will Windows Phone users be joining those with iOS and Android in pushing out these clips for those with a low attention span? The answer could come as soon as Tuesday.
source:
MSPoweruser