That's not an Apple Watch, it's just the upcoming $69 Zeaplus Watch paying homage to Apple
15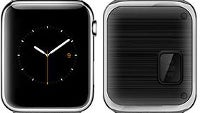 With tonight's Apple event expected to be centered mostly around the market release of its
Apple Watch
, the more polished clones of the wearable began to pop up.
Welcome the Zeaplus Watch, an upcoming smartwatch that can potentially beat all other companies willing to clone Cupertino's gadget and steal the crown as being the most bold and brazen Apple Watch knockoff.
The Zeaplus Watch will come with an aluminum body, but apart from borrowing Apple Watch's looks, this copycat will come with some features that will not debut alongside its progenitor.
We'll have a 2MP camera at the bottom of the watch (which will require you to take it off if you want a snap a picture), as well as a slot for a micro SIM card. Yes, the Zeaplus Watch will allow you to make and receive calls right from your wrist. Bluetooth 4.0 is also on board.
Feature-wise, the Zeaplus comes with a pedometer, a heart rate sensor, and "more". It will be available in silver, gold, and strangely enough, grey. This piece of wrist-worn gadgetry will work with both iOS and Android.
Pricing is unknown at this point. The Zeaplus Watch will be available for preorder in late March from the manufacturer's website.