T-Mobile is keeping the competition fierce by pricing the LG Optimus T in black to free
1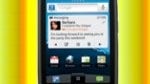 Unlike this time last year, we're now at a period when Android phones are becoming extremely affordable for just about anyone to own. More recently, T-Mobile dipped its feet into the entry-level market with the LG Optimus T as it boasts an impressive price from the start at $29.99 with a 2-year agreement.
However, they're really keeping the heat against its competitors as the LG Optimus T in its black paint job is now placed at the eye catching price of free with a contract. At that mark, it surely makes it a no brainer since it offers a decent level of performance while bringing users all the wonders of Android 2.2.
We already know that Sprint is pricing their model, the
LG Optimus S
, to the contract price of $49.99. But it'll be interesting to see how they will quickly adapt to this new revelation. Furthermore, Verizon will be launching their variant with the
LG Vortex
in the very near future, but they'll need to quickly look at the LG Optimus T if they want to keep pace.
source:
T-Mobile

Recommended Stories