Motorola CITRUS & LG Vortex are placed in a comparison chart alongside others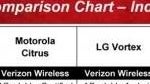 When new handsets are on the horizon, it's only fitting to see Verizon place their new offerings in some kind of comparison chart to enable employees to differentiate the uniqueness between them.
Both the
LG Vortex
and
Motorola CITRUS
have the coveted opportunity to take part in Big Red's latest comparison chart where they're pitted against other Android handsets – like the HTC Hero, Samsung Vibrant, and Motorola BACKFLIP. Looking at is closer, just about anyone would instantly know that the Samsung Vibrant would naturally win the hearts of most people with its high-flying specs.
However, the name of the game here is to show the budget value that the LG Vortex and Motorola CITRUS has to offer. Not only do they both offer the rich Android experience, but they're going to be inexpensively priced to accommodate just about any budget out there.
source:
Android Central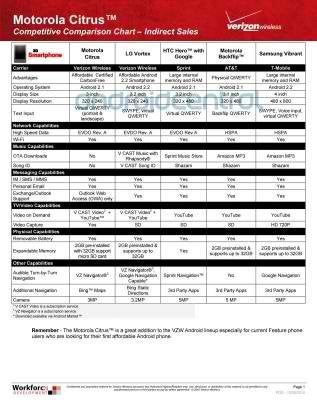 Motorola CITRUS & LG Vortex comparison chart
Recommended Stories