LG Optimus S finally brings the Android experience for cheap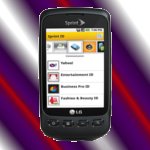 LG's Android presence is perhaps going to become a little bit more interesting now that the LG Optimus S is now available through the number three wireless carrier. Needless to say that the most eye opening things about the smartphone is it's affinity for choosing the entry-level category; as opposed to the usual high-end market. This simple notion to attack the affordable segment just might take the handset to new levels that other handsets offered by the carrier might not necessarily have been able to accomplish.
Priced inexpensively at $49.99 with your signature on a 2-year agreement, the LG Optimus S features a 3.2" touchscreen with a resolution of 320 x 480 pixels,
3.2
-megapixel auto-focus camera, and a 600 MHz processor – all of it are happily complemented with the full blown Android 2.2 experience. When it's priced so low, it undoubtedly make it a striking figure amongst the other offerings on their lineup – so feature phones better watch out.
source:
Sprint