Swiftkey upgrades to version 1.08 in Android Market; bugs fixed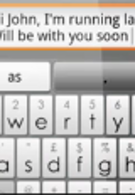 Swiftkey is another virtual QWERTY keyboard option for Android users, as we have
reported
. To refresh your memory, the keyboard is supposed to increase your typing speed and accuracy by 50%. The developer behind the product, London based TouchType, came up with the FluencyMobile software that predicts 33% of words without a letter being pressed, and correctly offers up 85% of words with just two letters typed. Spelling errors are corrected on the fly while you are typing fast.
Now, version 1.0.8 is available in the Android Market. The new version has two major changes-it has fixed an issue with contractions and apostrophes in auto-correction, and has fixed a prediction and voice dictation bug in areas of the software that have drop down suggestion text fields. For those using Android 2.0 or better, dictation is now supported for English, Spanish, French, German and Italian.
Another correction, pricing the app in U.S. dollars instead of Sterling, prevents some banks from rejecting the charge in Google checkout. Speaking of pricing, Swiftkey will be available in the Android Market for 99 cents until Friday when the price soars to $3.99. If you are interested in improving your typing speed and accuracy for a buck and still get change back, you have until Thursday at midnight to make the purchase.
source:
Swiftkey