Spigen's Samsung Galaxy S6 cases available for pre-order, new renders appear
20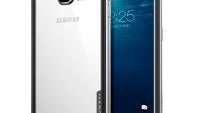 Do you remember the
extraordinary renders of the soon-to-come Samsung Galaxy S6
that we showed you the other day? More importantly, do you recall the
case renders that popped up
in the same period?Hopefully, these have successfully helped you picture the anticipated flagship.
If not, then another prominent case- and accessory-maker, Spigen, has got you covered (no pun intended). Its range of nine protective accessories for the Galaxy S6 are already available for pre-order from its official site, priced between $14.99 - $34.99 and available in a handful of different colors. Well, that's interesting, but what's more interesting are, of course, the new renders of the device that intend to showcase the cases to the fullest.
With each an every day that brings us closer to March 1 (when Samsung will announce it), it is becomes more and more certain that the Galaxy S6 might indeed look like we're suspecting. Take a gander at the newest Spigen renders right below (also ignore the iPhone-esque UI in some of the pictures).