Casemaker Verus claims that these Galaxy S6 case renders show us the real device with its actual dimensions
50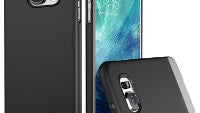 It's been raining Galaxy S6 leaks these past few days, and today is shaping up as no exception. As has become the tradition, the two week interim leading up to the unveiling of a major smartphone is about when we start getting some more credible information, and casemaker Verus claims it has exactly that.
According to what we're told by Verus, the below images are based on "
renderings of how the GS6 would actually look like."
Furthermore, Verus claims that these are the actual dimensions of the Galaxy S6 (not that you can tell much from a render) and we're given to understand that whatever parts of the device itself are visible are supposedly the real deal. Apparently, these details were obtained from
"a credible source"
by the company's South Korea-based team.
Disclaimers aside, the story here is quite similar to the one
Spigen gave us
. At this point in time, all evidence points towards a relocation for the cutout with the LED flash and heart rate monitor to the side of the camera sensor; new, separate volume up and down buttons (not a rocker) on the left hand side, and a seemingly imposing camera bulge on the back. This last part may have been made necessary by the device's thinner-than-ever profile, which rumors put at 0.28 inches (7.19 mm).
This is the second batch of case renders we receive from Verus. We've attached them all below, so go ahead and take a peek.
Recommended Stories