Specs comparison: OnePlus 5 vs HTC U11 vs LG G6 vs Google Pixel
2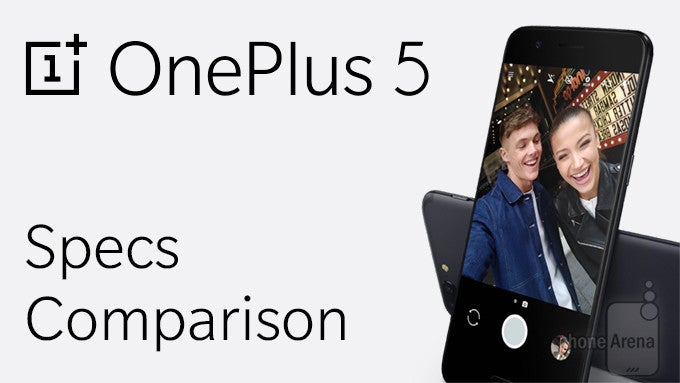 After months of rumors and speculation, OnePlus' latest flagship, the OnePlus 5, has finally been made official. And with the latest Snapdragon 835 SoC and 6/8 GB of RAM, it's certainly worthy of the title of flagship.
But no phone lives in a bubble, and right now the market is absolutely filled with great choices for a high-end device. So we've decided to present you with a comparison between the OnePlus 5 and not one, not two, but
three
other current flagships. The other fighters in the ring today are HTC's shiny camera powerhouse, the
U11
; LG's tall and handsome
G6
, and Google's performance prodigy, the
Pixel
.
But without further ado, let the showdown begin:
Specs
OnePlus 5
HTC U11
LG G6
Google Pixel
Display
5.5-inch IPS LCD
1080 x 1920 pixels
5.5-inch S-LCD
1440 x 2560 pixels
5.7-inch IPS LCD
1440 x 2880 pixels
5.0-inch AMOLED
1080 x 1920 pixels
Size
154.2 x 74.1 x 7.25 mm
153.9 x 75.9 x 7.9 mm
148.9 x 71.9 x 7.9 mm
143.8 x 69.5 x 8.6 mm
Screen-to-body ratio
71.34%
79.47%
68.88 %
Processor
Snapdragon 835
Snapdragon 835
Snapdragon 821
Snapdragon 821
RAM
6GB / 8GB
4GB
4GB
4GB
Storage
64, 128GB
64GB + microSD
32, 64GB + microSD
128GB
Battery
3,300mAh
3,000mAh
3,300mAh
2,770mAh
Rear camera
16MP f/1.7 + 20MP
f/2.6
EIS
2.0x optical zoom
4K video recording
12MP f/1.7
OIS
4K video recording
13MP f/1.8 + 13MP f/2.4
OIS
4K video recording
12.3MP f/2.0
EIS
4K video recording
Front camera
16MP
16MP
5MP
8MP
Software
Android 7.x
Android 7.1
Android 7.1
Android 7.1
Water resistance
-
Yes, IP67-certified
Yes, IP68-certified
No
Special features
Fingerprint scanner, USB Type-C, Dual nano-SIM slot
Fingerprint scanner, USB Type-C, Edge Sense
Fingerprint scanner, USB Type-C, dual camera
Fingerprint scanner, USB Type-C
Colors
Midnight Black, Slate Gray
Black, Silver, Blue, White
Black, Silver, White
Black, Gray, White