Sorry, folks, Galaxy S7's always-on display feature might not be coming to older Galaxy phones
54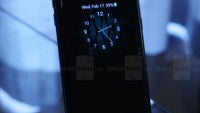 One of the highlights of the new
Galaxy S7
and
S7 edge
champs is the Always On Display feature that debuted alongside them. True, it's not something we've never seen before; actually, LG's G5 that was introduced merely hours before the S7 and the S7 edge also sports a similar functionality, and many others handsets do so, too.
Utilizing the strengths of AMOLED, Samsung has crafted an always-on screen feature which is constantly keeping part of the display on, in order to show important info, such as the time, notifications or appointments. It makes use of AMOLED displays' ability to light up only a handful of pixels and thus go lighter on your battery.
If you've been keep your hopes up that the always-on display feature will arrive on your older Galaxy handset, we've got some potentially bad news for you. SamMobile reports that this feature will likely remain a Galaxy S7/S7 edge-exclusive and won't arrive to other AMOLED-rocking Samsung handsets via a software update. We will be keeping an ear close to the ground and get back to you if more info on the matter pops up.
Also, patiently waiting for the devs over at XDA to say the last word...