Sony Xperia Z pictured on the floor of CES; will it be one Jelly Bean or two?
32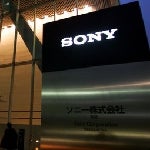 Sony Ericsson Xperia X1
. Those were the days when the
T-Mobile G1
was introducing the open source OS with the cool name of Android. The Xperia X1 ran on Windows Mobile Professional 6.1 and offered a unique panel-based home page which was quickly dropped.
As we told you earlier on Sunday, Sony has spread the word that it
will soon be showing off something extraordinary
and as we postulated, it probably will be the
Sony Xperia Z
. It looks like this will be the
new flagship model
for the Japanese manufacturer with a 5 inch 1080p display, and a quad-core processor. One question that has yet to be determined is if this "extraordinary" device will be powered by Android 4.1 or Android
4.2
.
Meanwhile, as the crew sets up the displays and tables for Tuesday's start of the CES 2013, what do we see on a table, nestled in a display, but the Sony Xperia Z. One look at the device and you just know it is going to be an amazing week.
source:
Engadget