Sony Xperia Z Review
99+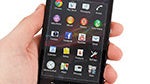 UPDATE:

You can now read our Sony Xperia Z Ultra Review and our Sony Xperia Z1 Review!


Introduction
Sony made the switch to Android quite some time ago, and has been constantly working to improve its devices ever since. Even though the manufacturer tried to make something happen with its high-end models of recent years like the Xperia T and S, it wouldn't be a lie if we say that its efforts have largely remained unnoticed in this world dominated by Galaxies and iPhones. What do you have to do to become a factor in this business? It certainly isn't easy, considering that a company such as Sony, which has an almost fanatical following, hasn't been able to disturb the status quo.
Apparently, what's needed is much more than just a strong specs sheet and a recognizable name. You need to have the powerful hardware encased in a beautiful design, a fast and responsive software experience, the latest operating system, a great camera, top-notch display... and of course, you have to be ready to take responsibility for anything you might mess up and be ready to fix and/or enhance the software of the device as frequently as you have to.
Sony's smartphones have obviously lacked some of these prerequisites, but Sony has proven to be resilient. It is now ready to try again. A new flagship model, a new Xperia phone is here to try and overpower the dominant species. Is that even possible? Why, we say nothing is impossible!
Ladies and gents, we're giving you the Sony Xperia Z!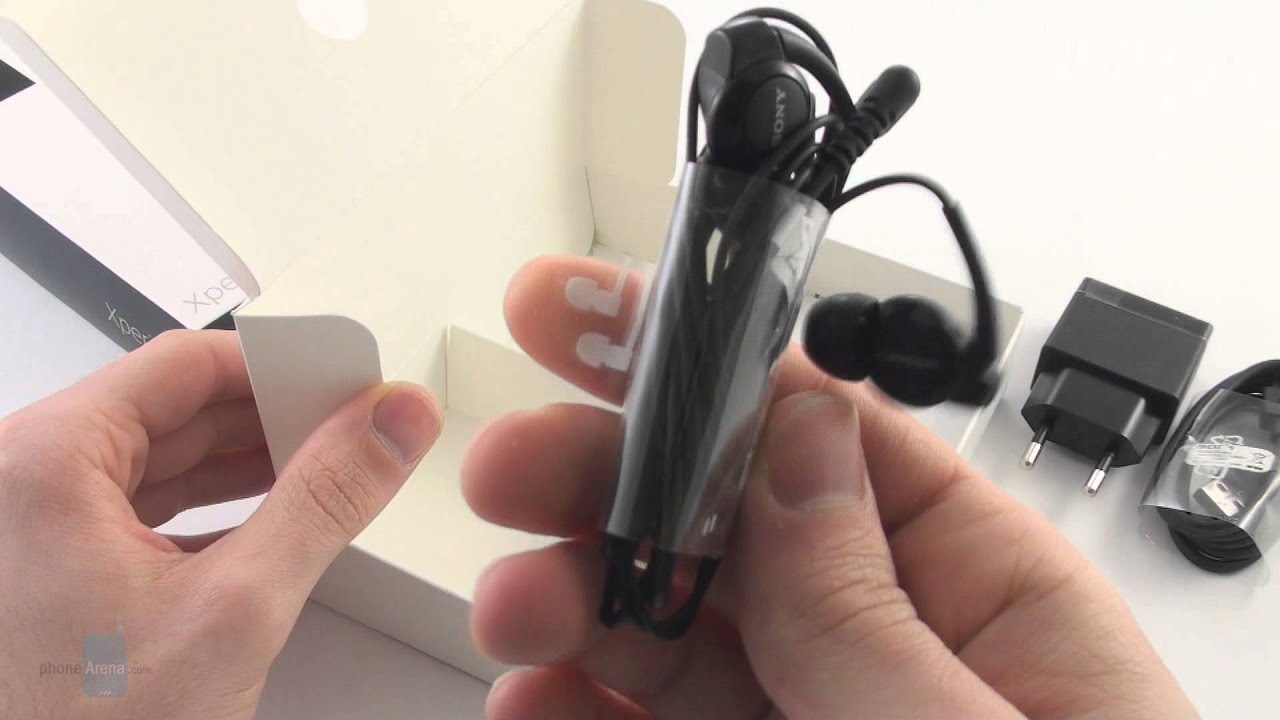 Design
And here it is, encased in its
beautiful glass body
. Sony has taken a different approach this time, and instead of using a soft-touch plastic for the back panel, it has went with an all-glass design. We can't tell you how happy we are because of this fact. The glass body gives the Xperia Z a much more striking look, plus it makes it less slippery in your hand.
The Xperia Z is a
super-thin smartphone
at only 7.9 mm, but thankfully, it's still not too thin so as to become uncomfortable to hold. The handset is built very well. It feels quite solid and premium – just the way it should feel considering its class. If we have to compare it to its Android competitors, we should say that Sony has managed to trump most of them in this respect.
One thing we don't quite like about the design are the
sharp edges
of the rubberized frame of the body. If those were a bit smoother, holding the Xperia Z would have been that much more comfortable.
With such
a large, 5" display
, it's understandable why the Xperia Z is so bulky. Even though it's quite thin, the handset is still a bit difficult to handle, especially if you want to accomplish something using one hand only. But such is the case with all 5" handsets, so it's not Sony's fault.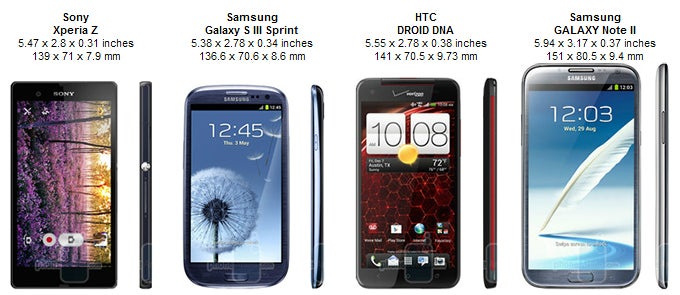 You can compare the Sony Xperia Z with many other phones using our Size Visualization Tool.
The keys
around the sides of the Xperia Z are limited to the power key and volume rocker. Both the rocker and the power button could be a bit better. Not that they are bad, but they lacks a defined "click" feel when pressed. We expected a bit more considering the special, new design of the power/lock key.
There are absolutely
no "holes"
around the Xperia Z. Every port or slot is covered by a protective plastic flap. This was probably needed to make the device dust- and water-resistant, speaking of which...
An interesting feature of the Sony Xperia Z is that
it's actually a rugged phone
. The handset is
IP57 certified
, with 5 meaning that it's protected against dust, and 7 meaning that you can immerse it in up to 3 feet / 1 meter of water, for up to about 30 minutes. Such rugged features are usually reserved for lower-class, niche type of smartphones, but we're glad that Sony is trying to shake things up here by making its top smartphone that much more resistant to the forces of nature. That's what a top-of-the-line smartphone should be nowadays! Let's hope that other manufacturers will follow suit.
Display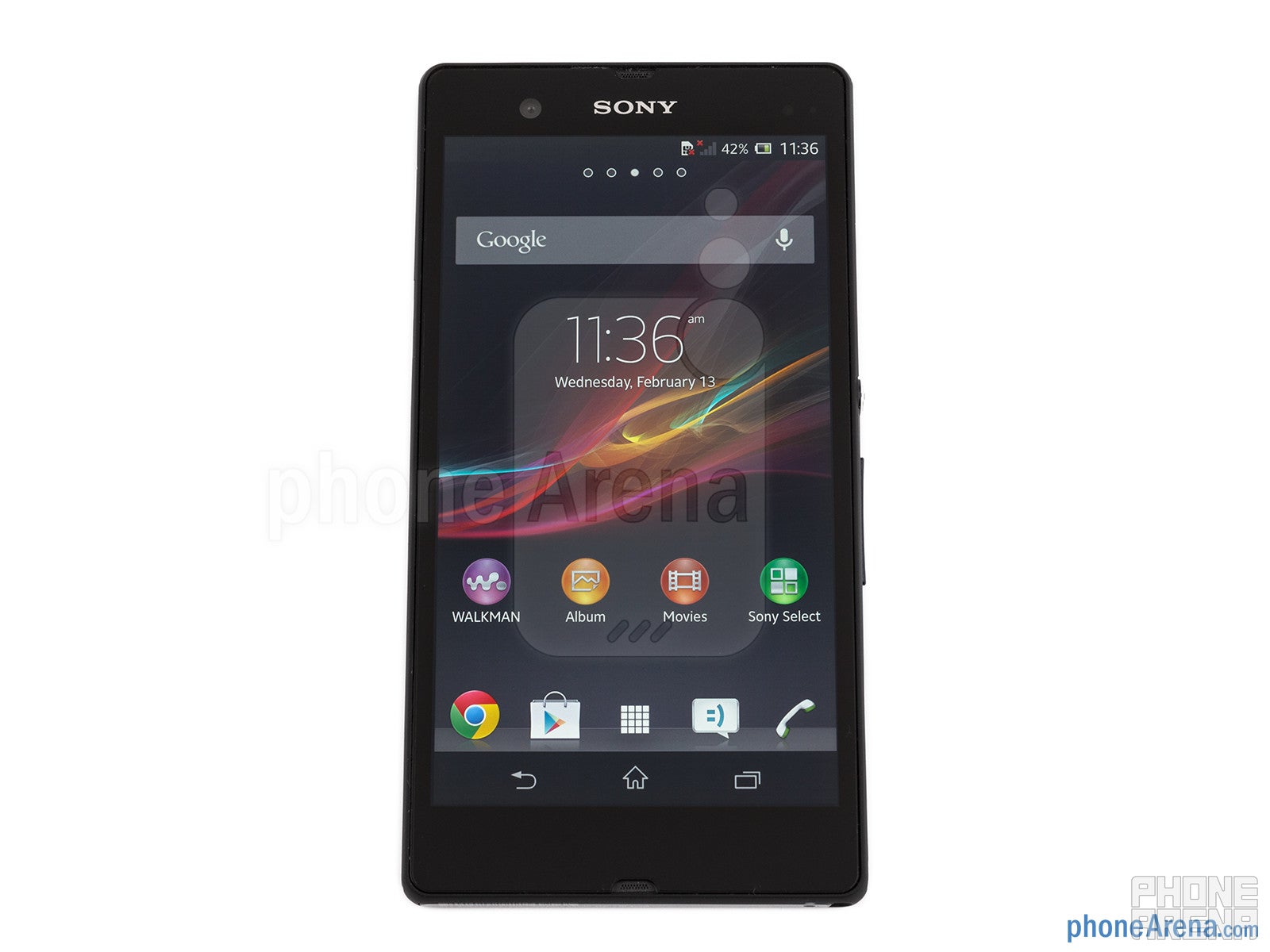 As it seems to be the trend these days, the Xperia Z comes with a
very large, 5-inch
display. The resolution is also quite extreme at 1080x1920 pixels, which makes for a super-high pixel density of 441 ppi. As you can guess, there isn't even the slightest hint of jaggedness with this display, no matter what you're looking at.
In terms of image quality, the display is quite good, although not necessarily as good as the very best. For example, its contrast could be a little higher and the colors could be a bit more saturated. You know, just to make things a bit livelier. Sony has implemented its Mobile BRAVIA 2 engine, which aims to enhance certain settings in order to make media content appear better on the screen. We've tried older Sony handsets with BRAVIA engine and have to say that images really get that extra edge thanks to the enhancement. Sadly, this only works when viewing images or video with the respective apps, so if you're, for example, viewing pictures inside the web browser or in Facebook, those won't benefit from the BRAVIA 2 enhancements.
Outdoor visibility is OK, you won't have problems there as long as the brightness is set to the max and the sun isn't directly reflected in the screen. The viewing angles, however, could also be a tad better. Overall, it's an awesome display that will make all kinds of activities super-fun, though Sony will have to do a bit more tweaking if it wants to be as good as the big boys of the industry.
Display measurements and quality
Sony Xperia Z 360-Degrees View
Recommended Stories