Snapchat update adds GIF stickers and some design changes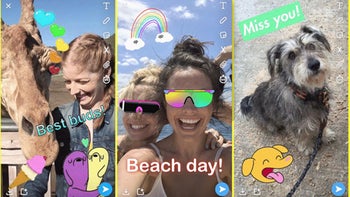 The team behind Snapchat has just announced new features are coming to its app as of this week.
After the users' backlash
following Snapchat's redesign, the developers have decided to make some changes that should diminish some of the bad choices they made in the past.
First off, the latest update brings
GIF stickers
, which are now available via Giphy. These can be found in the Sticker Picker tab, along with many other GIF options. On top of that, Snapchat folks have added two new tabs: Friends and Discover. The new tabs are supposed to make it easier for Snapchat users to keep up with Stories they create.
According to Snapchat, the new Friends and Discover tabs will first be available to iOS users, but they will make it to Android as well in the coming weeks. Along with the new design changes, the update will also include a new way to filter friends with active Stories, Group Chats, and Subscriptions.
Apparently, Snapchat's CEO and founder Evan Spiegel still believes that his company made the right choices concerning the recent redesign. However, he noted that
Snapchat
is "constantly monitoring the rollout of the redesign and making improvements based on what we learn from our community and their usage of Snapchat."