Second round of sales leaves 8GB Google Nexus 4 sold out once again in U.K. and Germany
15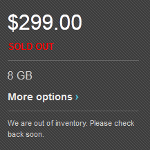 On Tuesday, Google once again found some inventory of the 8GB
Google Nexus 4
and put it up for sale in the U.K. and Germany. And once again, demand for the phone was apparently heavy. Essentially, the 8GB model of the phone is
sold out in both countries
again after shipping times reached 4 to 5 weeks and then rose to 5 to 6 weeks. Google is no longer accepting orders for the 8GB Google Nexus 4 in the U.K. and Germany.
Google called it sold out and refused to accept any orders
for the unit. To understand the popularity of the model, you have to appreciate that at
$299 off-contract
, the 8GB Google Nexus 4 represents great value. Meanwhile, at $349, the 16GB version is still in stock, or perhaps we should just say that Google is still accepting orders for this version in the two European countries, which will ship in 5 to 6 weeks. And to be clear, the 16GB variant offers just as much value for its price, if not more, than the 8GB model.
Once the dust settles and demand cools for the Google Nexus 4, we'd love to see some sales figures for the device to see how strong the demand really was for the phone, or if Google just wasn't prepared for the deluge in orders it was hit with.
source:
AndroidAuthority