8GB Google Nexus 4 out of stock once again
47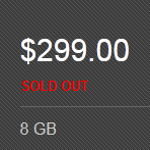 By now, LG and Google know that they have a hit on their hands with the
Google Nexus 4
, and have probably ordered up more stock from suppliers. But even contract manufacturers can't add more time to the 24 hours a day that some of the assembly lines churn out product. Yes, they might be able to turn a 12 year old school girl into a 35 year-old mother of three, but they can't add more hours to a day.
sold out again
and orders for the unit cannot be placed. Recently, the backlog for the phone reached
9 to 10 weeks
. Google is still taking orders for the 16GB variant priced at a tantalizing $349. Those orders are being shipped in 6-7 weeks which pretty much takes you past December 25th. Hopefully those ordering the unlocked handset as a holiday gift were able to get their order processed in time.
Meanwhile, the 16GB Google Nexus 4
remains out of stock at T-Mobile
despite the price which is
$150 more
than from Google directly, so that takes the carrier out of play. As we've pointed out before, if you need the phone immediately, your best bet might be eBay.
New restrictions on sellers
offering the phone should heighten security and lessen the chance that you're gonna get rooked. Prices have come down since the new rules were put in force and you can pick up the
16GB of the phone for $599.99
. If time is not an issue, you can still buy the same version from the Google Play Store for $349 assuming that the 6 to 7 week wait is not a problem.
source:
GooglePlayStore
via
Electronista