Google Nexus 4 Review
99+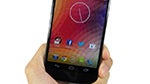 Introduction:
Moving steadily along with momentum on its side, Korean-based manufacturer LG is seeing itself in a very unfamiliar position in the smartphone industry. For a change, the spotlight has been directed at them of late – thanks primarily to the recent launch of its flagship device in the
LG Optimus G
. And with that going for them, it surely surprised many when the first rumors started coming around hinting to the notion that they would be the one to actually produce the next Google Nexus device.
Without question, it's a prized opportunity to be the one chosen by Google to come up with the next Nexus smartphone, since as we know all too well, they're highly prized items sporting the latest and greatest with Android. Oppositely, for the Mountain View based company, they're also shifting into top gear by bringing the heat to the competition this holiday season. Combining the two's efforts, they've collaborated in producing the
Google Nexus 4
– the fourth generations Nexus smartphone.
Already in the last couple of months, we've seen some fantastic smartphones come to market – with each one seemingly raising the bar. In a time when we're presented with renowned devices such as the
iPhone 5
,
Samsung Galaxy Note II
,
Nokia Lumia 920
,
HTC DROID DNA
, and even the LG Optimus G, one can only imagine the kind of star power needed by the Google Nexus 4 to stand apart from all the rest. Well, seeing that we're given the latest flavor of Jelly Bean, combined with one unimaginable price point, it seems as though the Nexus 4 has all the correct ingredients to make a meaningful, yet highly prized smartphone in this cutthroat business.
The package contains:
microUSB cable
Wall charger
Quick Start Guide
Safety & Warranty Guide
Terms & Conditions, Return Policy, and Limited Warranty Guide
Design:
Arguably, the last two Nexus smartphones put out by Samsung haven't been cutting-edge per se in the design department, but thankfully enough, LG manages to bring back a small sprinkling of premium to the beloved line. But to tell you the truth, the overall design of the Nexus 4 still doesn't match the precision and attention to detail seen with the original Nexus One. From the front, its minimalistic and clean surface stands out most prominently, but as a whole, it looks very much like the Galaxy Nexus from last year. However, it's in the rear that we're most impressed with the handset, since it's employing a cool looking
pattern design
very similar to what's seen over with the "Crystal Reflection" rear casing of the Optimus G. Depending on the angle, it sparkles brilliantly with its alternating dotted patterns. Even better, the glass casing layered on top of it adds that desired level of premium to its entire construction.
Strangely though, the Nexus 4 comes of being super slippery in the hand – attributed to the handset's front and rear surfaces being covered in glass. In fact, it's so very slippery that when we place it on a surface with a slight incline, it begins to slowly slide down, and in many instances, we're always left to remind ourselves to keep an eye on it. Additionally, it's a magnet for all the nasty baddies out there that dirty up its beauty – like fingerprints and smudges. With the help of a cloth, though, they're relatively gone in one quick wipe, thus, bringing it back to its pristine appearance. Compared to other recent handsets, the Nexus 4 doesn't attempt to push its construction to the limits, which is evident by its 0.36-inch thick profile and 4.9 oz weight – making it still somewhat unwieldy to hold in the hand. Ultimately, if it weren't for the glass casing and enchanting pattern design of the rear, this would've been a bland looking handset.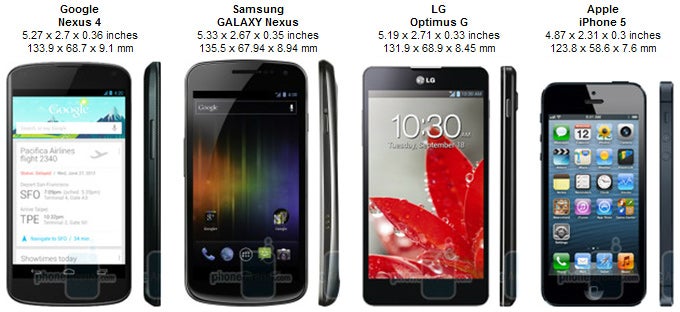 You can compare the Google Nexus 4 with many other phones using our Size Visualization Tool.
Attached with the Nexus moniker, it doesn't surprise us there are no capacitive buttons below the screen on this beauty, but rather, its LED pulse notification light is positioned there instead. On the opposite edge, we greeted with the usual suspect of characters – these include its earpiece, light & proximity sensors, and front-facing 1.3-megapixel camera, the latter of which can shoot video in 720p.
Checking out the items littered along its trim, which is sporting a matte soft touch coating, we find its volume control on the left edge and power button on the right. Raised slightly above the surface, they're distinctive enough to feel out with our fingers, but even better, they exhibit good feedback when pressed.
Along the top
trim
, there's the 3.5mm headset jack and noise-cancelling microphone – while on the bottom, we're left with only the standard mic and microUSB port for charging/data/video-out connectivity. Somewhat of a bummer, the Nexus 4 forgoes using a more favorable MHL port for video-out functionality, and instead, it relies on a Slimport socket, which means you'll need to purchase yet another proprietary adapter in order to connect it to a high-def TV. Additionally, it boasts wireless video-out functionality too, but you'll need to have equipment that's compatible with Miracast's wireless display standard – again, it's a complex process, sadly.
Flush to the glass surface of the
rear
, the Nexus 4 is sporting an 8-megapixel auto-focus camera with LED flash, which is capable of shooting 1080p videos. And finally, the narrow speaker grill is located towards the bottom right of the rear casing. Seeing that it's sporting a closed design, there's no easy access to its internal 2,100 mAh battery.
Display:
Having seen the razor sharp and awe-inspiring 1080p display of the HTC DROID DNA, there isn't much wow factor seen with the Nexus 4's display anymore. To tell you the truth, though, it's the same one used by the LG Optimus G – so it's been done before already! Regardless of that, there are some noteworthy elements seen with its
4.7-inch WXGA 768 x 1280 True HD IPS Plus display
.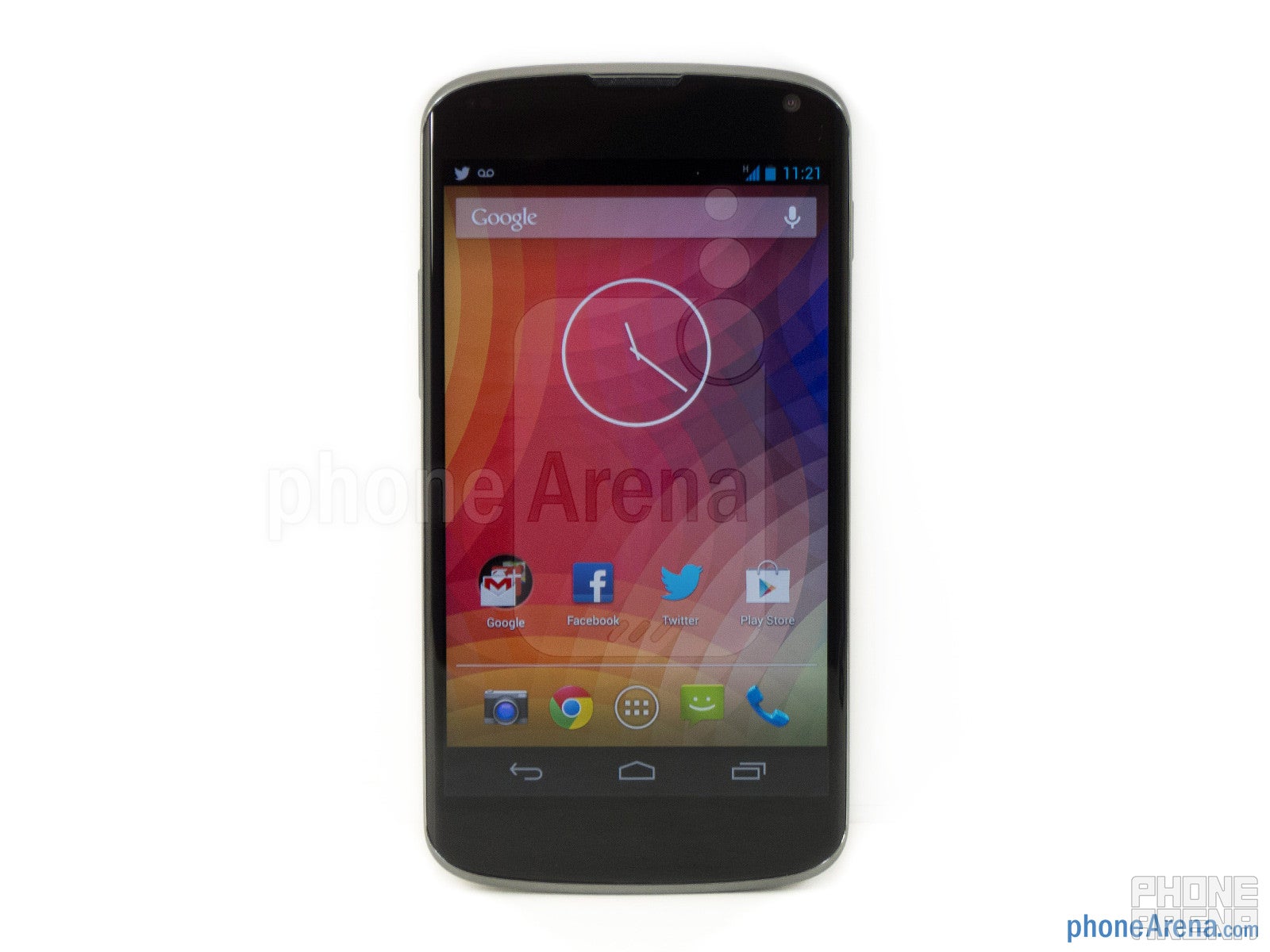 For starters, it's still one detailed thing with its above average
pixel density of 318 ppi
– and that's despite being outdone by the DROID DNA. Secondly, since it's relying on good old IPS LCD technology, it delivers colors that are the most natural in tone, giving it a distinctive realistic appearance over the saturated tones put out by the rival AMOLED technology. And finally, it works rather well when it matters the most with outdoor visibility, which is attributed to its strong brightness output, decent reflection rate and wide viewing angles.
Protecting everything, its screen is soundly reinforced with
Gorilla Glass 2
, which is rounded around the trim to seamlessly transition and mix well with its sides. Just like on the Optimus G, it's utilizing Zerogap technology that simply combines the LCD panel with the glass and eliminates the air gap usually found there, to make it appear closer to the surface. All in all, it's sharp looking no doubt, but as we've made it transparent, it's nothing that's ground-breaking.
Google Nexus 4 360-degrees View:
Recommended Stories