Save up to $400 when you purchase the Google Pixel or Google Pixel XL from Verizon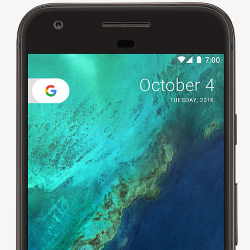 Google wanted the opportunity to sell a phone it designed itself from head to toe. This way, it could build its own hardware around its own software, a game plan that has worked well for Apple. In the U.S., the only place where you can walk into a store, check out the
Google Pixel
and the
Google Pixel XL
, and walk out with one of Google's new phones in your hands is Verizon.
If you're a new Verizon customer, you can switch to Big Red, trade-in your current daily driver, and save up to $400 on the purchase of the
Pixel
or the
Pixel XL
using Verizon's device payment plan. If you're already a Verizon subscriber, you can save up to $300 on the Pixel or the Pixel XL by trading in your current phone. We should note that the phone being traded-in must be in working condition. The only models worth the top amount that Verizon will pay include the
Samsung Galaxy Note 5
,
Samsung Galaxy S6
,
Samsung Galaxy S6 edge
,
Samsung Galaxy S6 edge+
,
HTC M9
,
Apple iPhone 6
,
LG G4
and
LG V10
.
The 32GB Google Pixel at Verizon is priced at $649.99 to be exact, or $27.08 a month over 24 months. The version with 128GB of internal storage is priced at $749.99, or $31.23 a month over 24 months.
The 32GB Google Pixel XL is $769.99 or $32.08 a month for two years. The 128GB version of the Pixel XL will cost you $869.99 or $36.24 a month over 24 months.
Yesterday, T-Mobile announced a deal that will
give owners of the 32GB Pixel half of their money back in bill credits if they switch to T-Mobile One
. None other than T-Mobile CEO John Legere said that the phone has been tested and is fantastic on the T-Mobile 4G LTE network. Those taking the third largest carrier in the nation up on this deal, will receive a $13.55 credit each month for 24 months.
Take advantage of Verizon's largesse and you can save as much as $400 on your Pixel or Pixel XL purchase. If interested, visit your local Verizon store.
source: Verizon