Unlocked BlackBerry KEYone for Verizon priced at $350 with one simple condition
4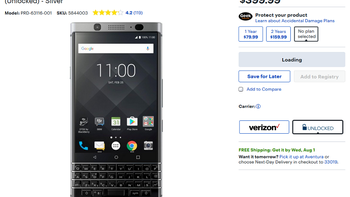 This just might be the lowest price we've seen yet on a new
BlackBerry KEYone
. Best Buy is selling the unlocked KEYone for Verizon priced at only $349.99. That is a savings of $150 or 30% from the big box retailer's usual price. But you must activate the phone on Big Red today. Wait until later to activate the device, and you'll pay $399.99 for a savings of $100, or 25%.
With the
BlackBerry KEY2
launched in the states earlier this month, retailers are looking to clear their inventory of the KEYone. And while there are certainly reasons to buy the KEY2 instead (dual camera setup, 20% larger keys, the SpeedKey, more powerful chipset, 6GB of RAM, and a sleeker design), many feel that at $649, the price of the sequel seems a little steep. And the KEYone remains a serviceable device with great battery life.
There still is time to take advantage of this deal online. If interested, click on the sourcelink below.
Recommended Stories