Samsung to rollout Galaxy S8/S8+ Bluetooth connectivity and stability fix to more countries soon
4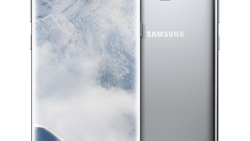 Following the problem with the red tint that marred the screen on the
Samsung Galaxy S8
and
Samsung Galaxy S8+
(which
the manufacturer later cleared up with a software update
), another problem has surfaced. The.latest issue to affect the
Samsung Galaxy S8
and
Samsung Galaxy S8+
is a problem that prevents owners of Sammy's latest flagship models from enjoying a stable and smooth Bluetooth connection with speakers, headsets and other accessories that are driven by Bluetooth. Some members of Samsung's official communities are complaining about this problem, with at least one writing about the failure of his Galaxy S8+ to maintain a Bluetooth connection with his Samsung Gear S3 smartwatch. The whole experience has been so frustrating that he has switched back to his
Apple iPhone 7 Plus
.
But things aren't so dark and gloomy for Galaxy S8 and Galaxy S8+ owners.
Samsung started rolling out an update a few days ago
to the affected flagship models that will fix these Bluetooth connectivity and stability problems. The only thing is that the update has thus far been limited to the United Arab Emirates.
"Plenty of Bluetooth issues here as well with the S8 Plus. My Gear S3 Classic randomly loses connection. Definitely a phone problem as the same Gear S3 has no issues with my S7 Edge or even my iPhone. Also, Bluetooth connection in the car for media playback is unstable. It either refuses to connect, or sometimes drop out. AgaIn, no such issues with the S7 Edge or iPhone. Hardware is not faulty. Clearly a software/firmware problem. Samsung needs to step up and address this issue urgently. I got fed up and switched back to my iPhone 7 Plus until Samsung releases an update that fixes this myriad of Bluetooth issues."-Samsung Galaxy S8+ owner
We should see Samsung start pushing out this update to other markets shortly, so if you don't live in the UAE and are having this problem with your Galaxy S8 or Galaxy S8+, sit tight. Help is on the way.
source:
SamsungCommunities
via
AndroidCentral