Samsung tears down Galaxy Tab 7.7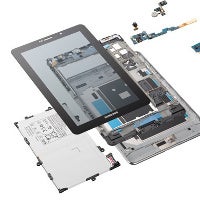 The
Samsung Galaxy Tab 7.7
is one of the most beautiful, slim, compact Android tablets, and if the price tag doesn't stop you from buying it, you might want to uncover the magic that Samsung sparkled inside to make it what it is. And now you have that opportunity.
First, let's mention that the
Tab 7
.7 stands out with its light weight - it tips the scales at 11.8 ounces (335 grams), but manages to squeeze a 10-hour battery and an LTE chip. Even more interesting, we've learned that Apple also possibly has a
similarly sized mini-iPad
in its labs.
So now, Samsung itself tears down the Galaxy Tab 7.7 to reveal its internals. You get to see how the Super AMOLED Plus display with a resolution of 1280x800 pixels is wired up, the motherboard and all other guts.