Samsung Galaxy Tab 7.7 Preview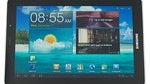 Introduction:
Last year was a very interesting one for technology, as it saw the birth of the tablet computer... at least as we know it today. Apple once again took the mobile world by surprise by unveiling its
iPad
, which quickly managed to transform itself from a "gigantic iPod", to the latest craze, proving that tablets have a significant spot in the present and future of consumer computing. Naturally, everyone else followed suit and started work on their own tablet solutions. Samsung was among the first ones to deliver a product to the market, in the form of its Galaxy Tab. However, the 7" slate was never really considered a true opponent to the iPad. Aside from its smaller form-factor, what actually left it uncompetitive was its software platform. It was near the end of 2010, and Honeycomb wasn't quite finished yet. Thus, the Galaxy Tab ran Froyo – a fact, which, for the most part, wrote its unfortunate destiny.
Now we're deep in 2011, a Honeycomb tablet is spawning every now and then, and we're really beginning to see the first worthwhile, non-iPad offerings hit the shelves. Among the most noticeable ones are the new additions to Samsung's Galaxy Tab line, which includes the
8.9
, 10.1, and most recently, the 7.7. The
Galaxy Tab 10.1
can be purchased right now, while we've already played with a prototype version of the 8.9, but what should we expect from the 7.7? The device got announced just recently at IFA, and fortunately, Samsung was quick to bless us with an unfinished unit of those as well, so that's what we'll be looking at here.
Armed with a slightly bigger, 7.7" screen, and more importantly, with a "true" tablet-optimized OS, will the
Samsung Galaxy Tab 7.7
successfully take the place of Samsung's debut tablet, and aspire it to new heights?
Design:
Samsung has done a terrific job with the design of the Galaxy
Tab 7
.7. It's way better than the OG Galaxy Tab, and even than the 10.1 and 8.9, which are all-plastic. In comparison, the Tab 7.7 has a stylish metal back cover, which, for the first time in a Samsung tablet, provides for a more classy feel. Not only that, but the 7.7 is also noticeably thinner than the iPad 2, and Galaxy Tab 10.1/8.9, at just 0.31" (7.89mm).

Obviously, the Samsung Galaxy Tab 7.7 will be targeted towards consumers who want a smaller and lighter tablet, which they can bring anywhere with ease. Since it's only marginally bigger than the original Tab, the 7.7 is still quite easy to pick up and go, while it's actually even better in the weight department, at only 11.82 oz (335 g), versus the original Tab's 13.40 oz (380 g).
The screen is where it gets interesting with the Samsung Galaxy Tab 7.7, as it makes the jump to using a
Super AMOLED Plus display
, instead of the traditional LCD. This is a first for a tablet, so it is inevitable for us to ask ourselves if this is a major step forwards in development of screen technology. Well, for the most part – it is. The AMOLED screen makes the experience of viewing pictures and video much more enjoyable, as it presents the user with incredibly deep contrasts, and lots of lively colors. It's indeed somewhat as if images come to life with such a big AMOLED screen. As you can imagine, colors are a bit colder on the AMOLED display, compared to a high-quality IPS-LCD for example, which manages to output a more natural balance, but this isn't really a big downer, as the difference isn't that big.
The Galaxy Tab
7.7's display
sports a resolution of 800x1280, which is great for this screen size, making even smaller text and other details appear crisp.
Since this is a Honeycomb device, controls like "home", "back" and so on are on-screen commands, instead of dedicated keys below the display. An interesting feature here is the infrared port on the right side of the tablet. We don't imagine that too many users will go crazy over it though.
Overall, we're quite happy with the direction Samsung is taking things with the Galaxy Tab 7.7, in regards to build quality. With a brushed metal finish to the back and an extremely thin profile, the Samsung Galaxy Tab 7.7 takes the "amateurish" design of the OG Galaxy Tab and transforms it into a mature, classy product.