Samsung sends out approval emails to those Galaxy S7 buyers due free Gear VR or Gear S2
8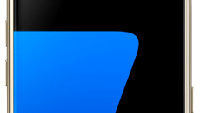 If you took advantage of the promotion that
promised a free Gear VR headset (or Gear S2 smartwatch for Verizon customers)
to those who purchased the
Samsung Galaxy S7
or
Samsung Galaxy S7 edge
from February 23rd through March 18th, you should be soon receiving an email from the manufacturer. The message basically acknowledges that Samsung has approved the recipient's submission for a free device.
The email that we copied below was one to a Verizon customer who had requested the Gear S2 smartwatch. The message goes on to say that "due to the high level of interest in the Verizon Offer promotion, delivery times for Gear S2 are now extending into May and potentially Summer 2016." We're not sure if the delay is limited to those Verizon customers who picked the Gear S2 to receive instead of the Gear VR headset, or if all consumers who took part in the promotion at Verizon or other carriers will have to wait for the Summer to receive their VR headset.
Samsung will send another email to those involved in the promotion once their Gear VR or Gear S2 actually ships. Six games come with the Gear VR and the value of the package is $149.99. The Gear S2 freebie is valued at $300.
"Congratulations! Your submission has been approved. We will ship your Samsung Gear S2 to the mailing address you provided when registering for this Offer. Please note that due to the high level of interest in the Verizon Offer promotion, delivery times for Gear S2 are now extending into May and potentially Summer 2016."-Email from Samsung to Verizon customers receiving a free Gear S2 smartwatch as part of a promotion for the Galaxy S7 and Galaxy S7 edge
source:
AndroidCentral