Samsung giving away up to 16 free apps from its store to selected GALAXY users
10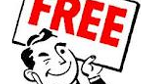 Earlier this year, we reported
that more than 100 million apps
had been downloaded from
Samsung Apps
. Now, Samsung is giving away
up to 16 free apps
from the web site to users of certain Samsung Galaxy devices. The games include such titles as Air Penguin, Air Attack HD, Riptide GP, Paladog, Sprinkle. Samsung says that it is offering the free games as a way to spark awareness about Samsung Apps as an exclusive destination for owners of Samsung smartphones and tablets.
Those who own the
Samsung Galaxy S
Wi-Fi 5.0
and the
Samsung Galaxy S II
will be able to install 16 free apps. Those with the
Samsung GALAXY Note
can choose from 12 free apps while Air Penguin is the lone free app that can be installed by those who have the
Samsung Galaxy Ace
and
Samsung GALAXY Gio
.
This is the time of the year for giving, so we are happy to hear that there is a free lunch for those who own the Galaxy models covered by the promotion, even if Samsung's goal is to sell you more apps down the road. To check out which apps are available for which device, check out the chart below.
source:
SamsungHub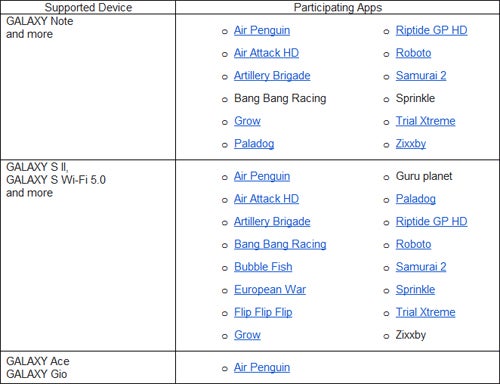 Certain Samsung Galaxy owners can install up to 16 free apps