Samsung and Marvel join forces for Avengers themed Galaxy S6 promo
18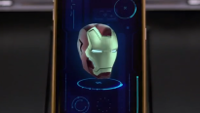 Back last month, we passed along a rumor that
Samsung and Marvel were working on producing a limited edition Avengers variant
of the
Samsung Galaxy S6 edge
. Now, the two have partnered on the first of what will be a series of promotional videos for the
Samsung Galaxy S6
and the
Age of Ultron
movie The first part is called "Assemble" and starts with a plan to simulate the superpowers of the mightiest heroes on the planet.
The first person we see is fourth grader Bobby Martinez from Kansas City. While reading an online Avengers comic, Bobby finds a mysterious briefcase by his window. The next would-be superhero is Green Bay Packer running back Eddie Lacy, who sees his briefcase appear out of nowhere after a strenuous workout. That brings up Sasha Blanc, a mechanical engineer in Prague and the lone female on the team, who also discovers one of those mysterious briefcases. Cyclist Fabian Cancellara run into his briefcase while cycling down the road. To round out the team, surfer John John Florence finds his briefcase on the beach.
Each one of them is told by a voice within the briefcase which Avenger they match up with. Martinez is Captain America while running back Lacy is the Hulk. Cancellara matches up with Hawkeye. Thor is the Avenger that matches John John Florence (thanks to his "
Godly courage and Godly hair
") is Thor while Blanc is the Black Widow.
All five rendezvous at a restaurant where they realize that they are one Iron Man short of a team. In through the door walks soccer star Lionel "Leo" Messi. Now that they are a team, their briefcases unlock revealing a Samsung Galaxy S6. But before they can get to enjoy the phones, the floor disappears beneath them sucking us in for the second part of this video, which is coming soon.
source:
Samsung