Samsung Nexus Prime first image surfaces: 4.6" display with impressive 720 x 1280-pixel resolution
73
The
Samsung Nexus Prime
might have just spoiled a part of the iPhone day - the handset heralding Google's latest Android, Ice Cream Sandwich, was spotted and it packs quite a punch in the form of a
4.6-inch Super AMOLED screen
with a resolution of 720 x 1280 pixels. This gives an impressive
pixel density of over 320ppi
. And don't worry about the fact that the screen shows 720 x 1184 pixels, as it's simply not counting the status bar and the on-screen key area.
Now, there's one key factor to be considered - is it going to be a
pentile screen or not?
If it is, then the quoted pixel density won't be comparable to phones with RGB screens as the pentile organization includes only two subpixels rather than three.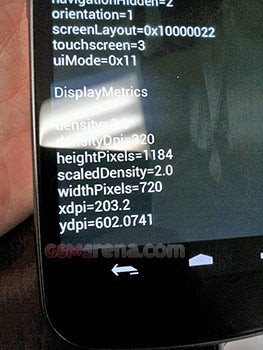 Interestingly, we also get to see a peek of what's allegedly the Ice Cream Sandwich user interface. As you can see, it looks similar to the Tron-inspired neon Honeycomb UI, a huge change compared to the Gingerbread looks. It definitely looks credible as previously, we saw a
similar ICS design leak
out in a video.
In either case, that's a bold statement arriving just before the iPhone. Apple's handset ruled the US market with the highest resolution out there for nearly a year and a half, and it'll be interesting to see whether it will match the Nexus Prime. Stay tuned as we'll be covering Apple's
"Let's talk iPhone"
event kicking off in just a couple of hours.