Samsung Galaxy S8 to be unveiled March 29th and launched late April priced at $849 and up?
57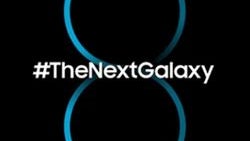 Grab your container of salt folks, because you just might want to take this rumor with a few grains of the stuff. According to @Ricciolo1, who has disseminated a large number of tips in the past, the
Samsung Galaxy S8
is ready and will be displayed at MWC in Barcelona. However, only a few lucky people will get to see the device next month. In other words, it will not be publicly unveiled at MWC. This is similar to what BlackBerry did at CES with the BlackBerry "Mercury". That phone was kept away from the public
and only media (like PhoneArena) was able to get hands-on time with the prototype
.
According to @Ricciolo1, the Galaxy S8 will actually be introduced on March 29th. The phone will launch during the 17th week of this year, which runs from April 24th through April 30th.
That is close to the launch date of the last rumor we passed along
, which was the week of April 17th. @Ricciolo adds that the new Samsung flagship will be priced at $849 and up.
The Samsung Galaxy S8 is expected to hit the market with a Gorilla Glass 5 protected 5.7-inch Super AMOLED display, with a 1440 x 2560 resolution. The Snapdragon 835 chipset will be under the hood, carrying an octa-core CPU and the Adreno 540 GPU. A 12MP camera is expected in back with an 8MP front-facing snapper. We also could see a premium model with a larger 6.2-inch display called the Samsung Galaxy S8 Plus.
Even if the Samsung Galaxy S8 isn't widely introduced at MWC, we hope to get a look at the newly designed flagship which is rumored to have a curved dual-edge screen, thin bezels, no home button (the fingerprint scanner is reportedly embedded in the display), and the Samsung branding on the lower bezel.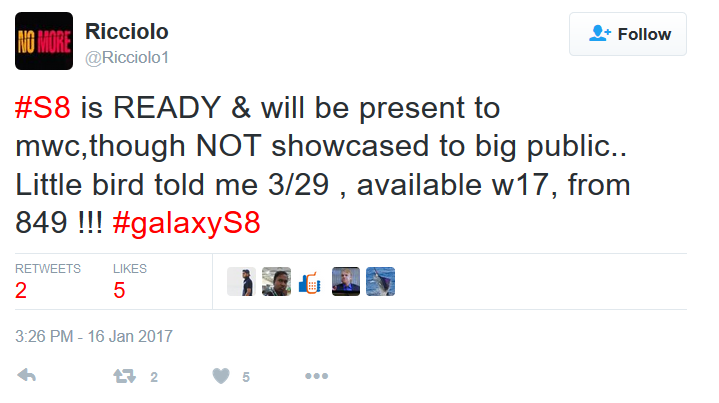 Tipster @Ricciolo1 tweets the rumored date of the Galaxy S8's unveiling, launch, and the price
source:
@Ricciolo1
Recommended Stories