Classic design bridges the path to BlackBerry's future: hands-on with the BlackBerry Mercury
51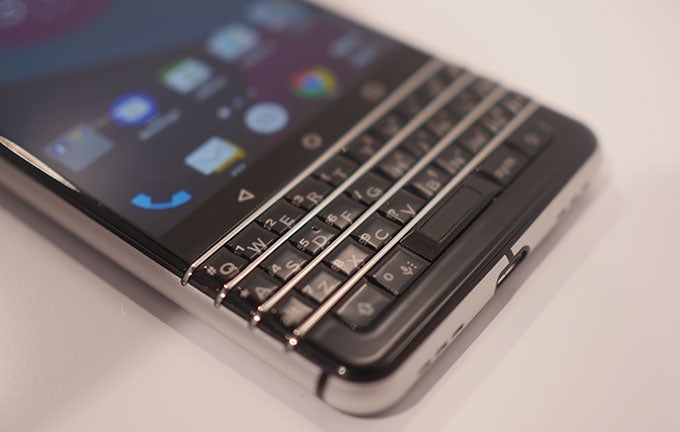 Fortunes rise and fall in the smartphone game, and even for giants of the industry, whose handsets seem to dominate the public's interest, the future is rarely assured. For every Apple or Samsung there's a Nokia or Palm, but no company's struggle to stay aloft in a rapidly evolving market is arguably as interesting as BlackBerry's. Here from nearly the beginning, the company's managed to keep on delivering phones even as it's faced seemingly insurmountable obstacles in recent years,
switching software platforms
and recognizing shifting user tastes in phone hardware.
But while BlackBerry may still be kicking, the BlackBerry of today is very different than the company we knew just a few years back, and its mission continues to transform. Most recently, we've seen BlackBerry offload its hardware manufacturing to the Chinese company TCL, the parent company also behind Alcatel phones. That's already brought us the BlackBerry
DTEK50
and
DTEK60
, and this year at CES we're getting an early look at the company's next handset,
a keyboard-equipped model codenamed Mercury
.
Design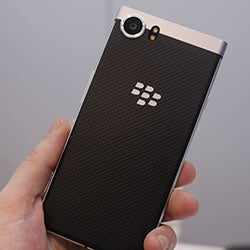 The BlackBerry brand is one utterly steeped in tradition and its users are among the most passionate you'll find. Nine times out of ten, the target of that passion is a good-old-fashioned hardware QWERTY keyboard. And while last year's pair of TCL-made DTEK models lacked such an input mode, it's making its triumphant return on Mercury.
The look here is classic BlackBerry all the way, and rather than a sliding keyboard arrangement like on the Priv, Mercury's keyboard is a permanent fixture of the handset's face. TCL takes full advantage of its presence there by implementing the same sort of capacitive touch input we know from BlackBerry-made handsets – so you can swipe for gesture control, and likely interact with an on-screen keyboard, as well.
Mercury's design is a mix of assertive straight lines and graceful curves, and the result is a modern handset that stays relatively true to BlackBerry's history. Up top, the metal bezel evokes memories of the BlackBerry Passport in silver, but this is also a phone that's very much living in the present, as we see down below with the presence of a USB Type-C port. Around back, a textured rear surface both helps with grip and gives the handset a premium (to say nothing of smudge-resistant) look.

Hardware
It's worth taking a moment to talk about exactly what we're getting to see here – and what we aren't. Externally, this is the Mercury we'll be seeing formally launch later this year – even if under a different name. And while TCL was happy to share this advanced peek at the phone with us, its full component breakdown and capabilities still aren't public. While
leaks have already attempted to nail down some of the phone's specs
, nothing's confirmed for the moment.
Some of the rumors need less support than others. Take what we've heard about a fingerprint scanner embedded in the keyboard's space bar, for instance: there's clearly a conspicuous depression in the key that aligns quite nicely with this rumor, but TCL stopped short of directly confirming the feature.
Others,
like the screen's unusual 1620 x 1080 resolution
aren't details we were able to conclusively verify, but the shape of the display appears to correspond with that aspect ratio.
User experience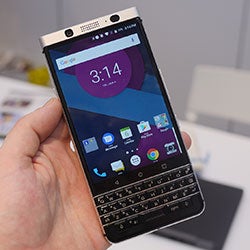 While so many hardware questions remained unanswered, our hands-on time with the BlackBerry Mercury was able to begin verifying some software details, and the big one there is the presence of Android 7.0 Nougat. We also saw the return of features we got to know on the Priv, like BlackBerry's unique grid-based app switcher. But much like the phone's internal components, the software is also a picture we've yet to see fully reveal itself to us, and we likely won't have a full sense of what to expect until much closer to Mercury's official launch.
Expectations
While TCL's DTEK BlackBerrys were basically rehashes of Alcatel Idol hardware with a BlackBerry-branding twist, Mercury represents a whole different kind of vision, and has the potential to be the first real step in the next chapter of the BlackBerry story: rekindling classic BlackBerry design while embracing new strategies for hardware and software alike.
One consideration critical to BlackBerry's future is the enterprise story, and if Mercury is to really succeed, getting it into the hands of corporate IT departments is practically a requirement. That's made all the easier for a phone when it enjoys strong support from a major carrier.
Rumors have pointed to Verizon as a possible partner in the US
– and like all the other whispers we've heard about this phone, it's one that currently eludes confirmation. That said, our conversations with TCL sure indicate that the company appreciates the importance of getting on board with a carrier, and if it's one as big as Verizon, all the better for Mercury's shot at success.
We eagerly await getting the rest of the official story on the arrival of this exciting new addition to the BlackBerry family. Until Mercury's read to share all its secrets, check out our early first-look hands-on and image galley: