Samsung Galaxy S7 edge size comparison vs Note 5, 6s Plus, Nexus 6P, and others
16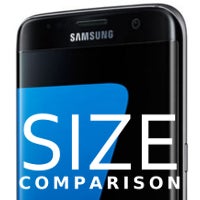 Unlike last year, when the Galaxy S6 edge was mostly similar to the regular S6, this time around Samsung decided to differentiate the S7 edge from the S7. That's why the former arrives with a larger display and a bigger battery.
Apart from these two, the rest of the specs are identical, but let's be real here: display size and battery capacity are some rather important metrics.
Indeed, the S7 edge looks like a dream come true for all fans of big-screen phones. We mean, what's not to love? With potent hardware and outstanding design, the S7 edge is ticking all the right boxes. It certainly has our full attention. Still, how does it fare against most of its rivals in terms of size? Check out right below.