AT&T already lets you sign up for Samsung Galaxy S10 pre-order news
4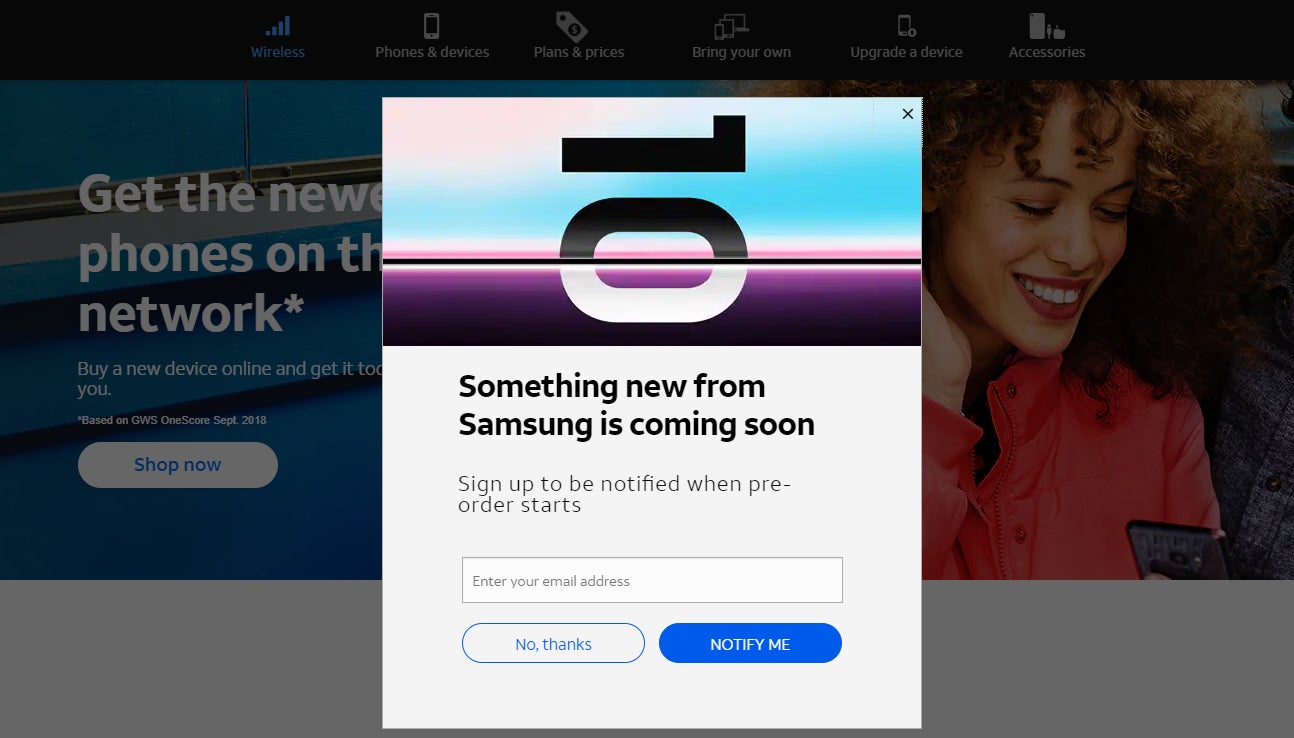 AT&T today became the first US carrier to inform customers about the upcoming arrival of the
Samsung Galaxy S10
smartphone series. Of course, the Galaxy S10 line hasn't been officially announced yet, but Samsung will unveil it tomorrow, February 20, during a
live-streamed event
. Until then, AT&T wants customers to "sign up to be notified when pre-orders [for the new phones] start."
At the moment, the upcoming Galaxy series does not have a proper page on AT&T's website. But you can sign up for notifications via a pop-up window (pictured above) that appears when you're visiting the carrier's website -
here
. If you register (using your email address), AT&T will inform you as soon as it can about the pre-order date of the Galaxy S10 family.
While AT&T doesn't actually mention the names of Samsung's new smartphones, it's showing us a teaser image that Samsung itself has been using for some time - including a "10" that pretty much confirms the Galaxy S10 name. We are expecting at least three different S10 models to be announced by Samsung: a 5.8-inch
Galaxy S10e
, a 6.1-inch
Galaxy S10
, and a 6.4-inch
Galaxy S10+
. Right now, it's unclear if AT&T will carry all of them, but we hope to find out more on this tomorrow.
It's likely that pre-orders for the Galaxy S10 will be open shortly after February 20. This has been
suggested by Samsung
last week, when the company started to accept registrations for its next-gen flagship phones. Samsung is ready to give up to $550 back to folks who will pre-order a Galaxy S10 and trade in an old handset, and we assume AT&T is planning to offer a similar deal.
In addition to AT&T, all other major US carriers (Verizon, T-Mobile, Sprint) will probably share some news about the Galaxy S10 series as soon as tomorrow.
Do you plan to pre-order a Samsung Galaxy S10 when this becomes possible?