Reserve your Samsung Galaxy S10 today and save up to $550
23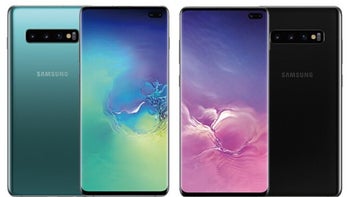 Samsung Galaxy S10+ leaked press render
The
Samsung Galaxy S10 series
won't be announced until next Wednesday in San Francisco. But if you've already decided that one of the next-gen flagships is going to be your next phone, Samsung is kindly giving you the chance to reserve one.
Starting today you can head over to Samsung's
official website
and secure your right to purchase the new flagships as soon as pre-orders start. There is no option to choose which model – Samsung does warn that not all versions are eligible for the offer – but you can select an unlocked model. Alternatively, carrier variants designed specifically for AT&T, T-Mobile, Sprint, Verizon, and US Cellular are available.

The reserve period continues through 11:59 pm EDT on February 20th. This would suggest that pre-orders will start shortly after the event. Once they do, those of you that may have reserved a Galaxy S10 have up to 72 hours to complete the transaction. Doing so will guarantee delivery by March 8th.

Reserving the smartphone doesn't cost any money but Samsung does kindly highlight the big savings that could be made by trading in your old phone. More specifically, consumers that plan on replacing a Galaxy S9/S9+, Galaxy Note 9, iPhone 8/8 Plus, iPhone X, iPhone XR, iPhone XS/XS Max, LG V40 ThinQ, or Google Pixel 3/3XL will be able to save a whopping $550 on their purchase.

Naturally, not everyone will be looking to replace new smartphones such as these. Because of this, any Samsung flagship since the Galaxy S6 can be traded in. Similarly, iPhones dating back to the iPhone 5S can be swapped, as can all of Google's Pixel flagships. A range of Motorola smartphones is also eligible, as are a number of older LG models.

Samsung is yet to confirm the pricing of its next-gen flagships but according to leaks, the Galaxy S10e will start at $749 in the US. The regular Galaxy S10, on the other hand, is set to undercut certain other flagships with a price point of $899 while the Galaxy S10+ should start at $999.