Samsung Galaxy Alpha vs Samsung Galaxy S5 vs LG G3: specs comparison
13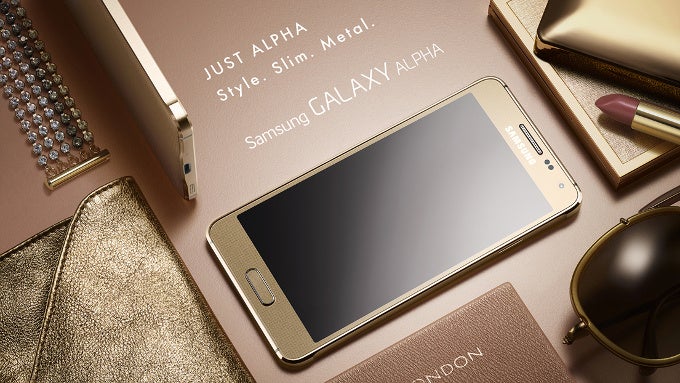 The
Samsung Galaxy Alpha
is
already here
, folks! The long-rumored and much-anticipated metal-clad Samsung device has finally seen the light of day today, just
as we told you several days ago
. it's extremely thin (6.7mm), totes metal frames, and as a whole has a pretty premium-looking design. However, we could hardly find any device (apart from the iPhone 5s) with a display size under 5 inches that could boast similar premium design. At the moment it has the advantage of being the first device from a major manufacturer that has premium feel to it and has a display size of exactly 4.7 inches. Well, at least until the iPhone 6 gets officially unveiled, provided that Apple's upcoming champion flaunts a 4.7" screen as countless
rumors and speculations
suggest, but we digress.
That said, we decided to put Sammy's first metal-clad knight against a duo of the more popular Android flagship devices at the moment, its substantially bigger peer - the
Samsung Galaxy S5
, and another well-known trooper from distant Korea - the
LG G3
. The lightweight alpha can't stand up to them in the display size segment, but what about pure hardware specs? At least on paper, we can compare and put the three devices against one another for as long as we desire. Of course, the Galaxy Alpha is a niche device that doesn't boast top-end hardware specs, but some may argue that this might not necessary be a deal-breaker and the premium design makes it up for the not-so-great specs.
You be the judge. What do you make of this heated battle?
Super AMOLED
IPS LCD
Super AMOLED
Scratch-resistant glass, Ambient light sensor, Proximity sensor
Oleophobic coating, Scratch-resistant glass, Ambient light sensor, Proximity sensor
Scratch-resistant glass, Ambient light sensor, Proximity sensor
Qualcomm Snapdragon 801 MSM8974-AC (28 nm)
Qualcomm Snapdragon 801 8974-AC
Samsung Exynos 5 Octa 5433
Quad-core, 2500 MHz, Krait 400, 32-bit
Quad-core, 2500 MHz, Krait 400
Octa-core, 1800 MHz, ARM Cortex-A15 and ARM Cortex-A7
Adreno 330
Adreno 330
Mali-T628 MP6
Android (6.0 Marshmallow, 5.1 Lollipop, 5.0 Lollipop, 4.4.4, 4.4.2), Samsung TouchWiz UI
Android (6.0 Marshmallow, 5.1 Lollipop, 5.0 Lollipop, 4.4.2)
Android (5.1 Lollipop, 4.4.4), Samsung TouchWiz UI
21.00 hours
the

average

is 17 h (996 min)
19.00 hours
the

average

is 17 h (996 min)
16.2 days (390 hours)
the

average

is 20 days (472 h)
22.8 days (548 hours)
the

average

is 20 days (472 h)
21.00 hours
the

average

is 19 h (1110 min)
21.00 hours
the

average

is 19 h (1110 min)
11.00 hours
the

average

is 19 h (1110 min)
23.0 days (553 hours)
the

average

is 0 days (0 h)
25.0 days (600 hours)
the

average

is 0 days (0 h)
Single camera
Single camera
Single camera
13 MP (OIS, Laser autofocus, BSI sensor)
12 MP (Autofocus, CMOS image sensor)
Aperture size: F2.2; Focal length: 31 mm; Sensor size: 1/2.6"; Pixel size: 1.12 μm
Aperture size: F2.4; Focal length: 29 mm; Sensor size: 1/3.06"; Pixel size: 1.12 μm
Aperture size: F2.2; Focal length: 31 mm
3840x2160 (4K UHD) (30 fps), 1920x1080 (Full HD) (60 fps)
3840x2160 (4K UHD) (30 fps), 1920x1080 (Full HD) (30 fps)
3840x2160 (4K UHD) (30 fps), 1920x1080 (Full HD) (60 fps), 1280x720 (HD) (120 fps)
MPEG4, H.264
MPEG4, H.263, H.264
MPEG4, H.263, H.264, WMV
HDR, Continuous autofocus, EIS, Video calling, Video sharing
OIS
HDR, EIS
2.1 MP
2.1 MP
2.1 MP
1920x1080 (Full HD)
1920x1080 (Full HD)
1920x1080 (Full HD)
5.59 x 2.85 x 0.32 inches (142 x 72.5 x 8.1 mm)
5.76 x 2.94 x 0.35 inches (146.3 x 74.6 x 8.9 mm)
5.21 x 2.58 x 0.26 inches (132.4 x 65.5 x 6.7 mm )
5.11 oz (145.0 g)
the

average

is 6.5 oz (184 g)
5.26 oz (149.0 g)
the

average

is 6.5 oz (184 g)
4.06 oz (115.0 g)
the

average

is 6.5 oz (184 g)
Back: Plastic
Back: Plastic
Back: Plastic; Frame: Aluminum
Fingerprint (swipe)
Fingerprint (swipe)
Touch sensitive control keys, Interchangeable covers, Notification light
Touch sensitive control keys
Samsung Galaxy Alpha