Samsung Galaxy Alpha is now official: metal-made and the thinnest Galaxy yet
99+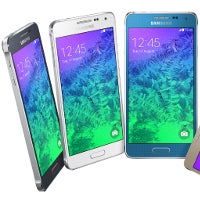 After months of endless leaks, rumors and speculations, the Samsung Galaxy Alpha has finally gone official. Samsung unveiled the Alpha, a premium handset with a metal frame that also happens to be the thinnest in the Galaxy lineup so far, at an event in Russia, and that's also the first market where consumers will be able to pre-order the new gadget.
The Galaxy Alpha's metal build and sleek profile, as well as its 4.7-inch screen size, position it as a direct rival to the upcoming Apple iPhone 6 that is also expected to ship with a 4.7" display and a metal body. Apart from the metal frame, though, the Alpha looks a lot like the Galaxy S5 in terms of design with similarly position buttons and overall styling. The Alpha has also got a removable plastic back cover with a slightly different, denser pattern. The new handset has a fingerprint reader just like the S5, but it's not water-resistant.
Here's a quick overview of the specs of the Samsung Galaxy Alpha:
- 4.7-inch Super AMOLED display with a resolution of 720 x 1280-pixel
- Android 4.4.4 KitKat with TouchWiz
- Exynos 5430 (octa-core, four cores running at 1.8GHz and four more at 1.3GHz)
- 2GB RAM
- 12-megapixel rear camera, 2.1-megapixel front cam
- 32GB of internal storage, no microSD card slot
- 4G+ LTE connectivity, Cat. 6 with 300Mbps down/50Mbps up speeds
- 1860mAh battery
- 0.26" (6.7mm) thick
What sticks out most in these specs is the speedy octa-core Exynos 5 system chip that Samsung uses in the Galaxy Alpha, and we've already seen some impressive benchmark results: the Galaxy Alpha AnTuTu score comes in at around 37k, more than the Galaxy S5 and HTC One (M8). Connectivity is also well taken care of with a category 6 LTE modem that delivers '4G+' speeds of the impressive 300Mbps on the downlink, if your carrier supports this.
Another interesting addition is the 12-megapixel main camera that is capable of recording 4K Ultra HD video at 30 frames per second. It's the first time we're seeing a 12-megapixel sensor in a Samsung Galaxy series phone and we're looking forward to telling you more about it soon.
The Samsung Galaxy Alpha price is set at $689 (24990 rubles) off-contract, right between that of the flagship Galaxy S5 (costing $827, or 29990 rubles) and compact Galaxy S5 'mini' (priced at $555, or 19990 rubles).
The Galaxy Alpha release date is set for September 12th, but it's already up for pre-order and Samsung is bundling some bonus accessories for the first to place a pre-order.