Rumor reaffirmed: Android VR is coming, has a placeholder in the Play Developer Console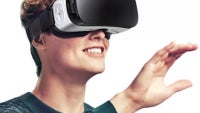 Yesterday, we heard a rumor that Google may be preparing to launch an
autonomous Android VR headset
at the upcoming I/O conference. A standalone set of goggles, with its own processor, display, and operating system. The rumor was backed up by leaksters and mentions of the mysterious Android VR found within the latest preview build of the Unreal engine.
Today, we get a reaffirmation of that rumor — apparently, users who have access and log into the Google Play Developer Console will see a new tab, next to the already known Android Wear, Android TV, and Android Auto. You guessed it, the new tab is "Android VR". Reports say that clicking on it currently does absolutely nothing, which is pretty self-explanitory – it's just a placeholder, while Google is preparing for the official announcement.
Most of the information about Android VR comes from tech entrepreneur Peter Rojas, who has tweeted that the headset is definitely coming next week, that it's "better than Gear VR but not as good as HTC Vive or Oculus Rift", and confirmed that it's an autonomous device. Well, it seems we'll know what it's about fairly soon! The conference begins on May 18th – just 5 days from today.
source:
Android Police
|
Peter Rojas