Results: life on beta builds is exciting!
2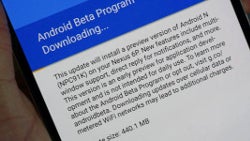 Device manufacturers have slowly begun to embrace the benefits of running a public beta for their future OS updates. They get tons of free testing done, gather more data than they could in private tests, and keep their devoted fans happy and loyal. That's a 3 for 1! Apple has a running beta program for iOS releases, Sony has had it for the
Xperia flagships
and their Android builds, and Samsung currently has one running for the
Galaxy S8
and Android 8 Oreo
, to name a few.
Now, it's always a good idea to backup your phone and be mentally ready that something might go terribly wrong and you might have to wipe your device — this is not a nefarious secret, even developers warn of the dangers of testing a beta on your daily driver. But a lot of people out there don't really have 2 or more contemporary devices lying around. And, where's the fun in owning your favorite phone if you can't outfit it with the latest available software, right? So, some people just live dangerously and use their main phone with a beta, no big deal. We thought we'd ask how many of you did that. Here's how that poll went: