Pope's visit might delay Apple iPhone 6s, Apple iPhone 6s Plus shipments in the Northeast
46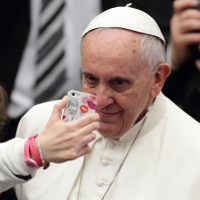 Those in New York and Philadelphia expecting to find a box containing the brand new
Apple iPhone 6s
or
Apple iPhone 6s Plus
at their door on September 25th, might be a little upset to learn that the possibility exists that their phone won't arrive until Monday, September 28th. The reason for the delay is the U.S. visit by Pope Francis.
The Pope is visiting New York and Philadelphia next week, and UPS is halting deliveries in certain regions of the two cities. The delivery halt runs from Thursday, September 24th through Saturday, September 26th. Since the next day is a Sunday, package deliveries won't take place in the affected areas until Monday, September 28th. UPS is implementing this plan as a security precaution.
Zip Codes affected by the delivery halt in New York City are 10001, 10007, 10017, 10021, 10022, 10023, and 10029. In Philadelphia, affected Zip Codes are 19102, 19103, 19104, 19106, 19107, 19109, 19123, 19130, 19146, and 19147.
Apple employs both FedEx and UPS for its shipments. So far, FedEx has not issued any delivery halt. If your iPhone is being shipped via UPS, and you are in one of the above listed Zip Codes, you might be able to personally pick up your package at a UPS holding center. Call your local UPS office to see if that is possible.
source:
UPS
via
MacRumors