Apple iPhone 6s Review
99+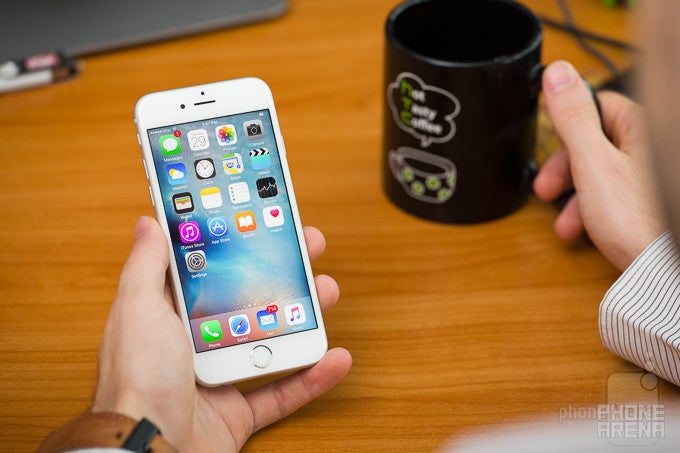 Introduction
S-generation iPhones have always been slightly less exciting than their full-fledged, S-less brethren, but looking at the improvements Apple's doing with this year's
iPhone 6s
, we honestly don't feel any less excited than when we first held the
iPhone 6
in our hands at about the same time last year.
In fact, the iPhone 6s (along with the
6s Plus
) has the potential to be the most disruptive piece of mobile technology to appear in recent years, as it aims to add a whole new dimension to the way we use our handsets. 3D Touch, as this new technology is called, is a big, bold undertaking by Apple. Perhaps more importantly, though – it's an example of meaningful innovation; the kind of which we rarely see these days.
Along with the potentially game-changing 3D Touch, the iPhone 6s also brings a fairly long list of other improvements, such as faster processors, better cameras, more RAM, Siri and Touch ID upgrades, tougher aluminum body with stronger screen glass, more efficient wireless modem… Many of these enhancements may appear to be more or less trivial, but they help shape Apple's newest phone up as a complete and enticing package – exactly the type of product Apple wants to have in this incredibly dynamic landscape.
With a strong hardware foundation and all the new features enabled by iOS 9, the iPhone 6s seems to be destined for success. Let's see if it lives up to its promise!
Design
A year later, the iPhone 6's appearance is just as attractive and enigmatic.
As you'd expect, the iPhone 6s keeps the same exact styling of its predecessor. In this case, that's not a bad thing at all, seeing that it's an exquisite design that is both attractive and practical. It consists of an aluminum unibody that holds all the internals in place, as well as an LCD screen panel that's protected by an even stronger glass cover than before – one that is produced using — in Apple's own words — a "dual ion-exchange process". It sure sounds fancy and what not, but in reality, it's believed to be none other than Corning's Gorilla Glass 4. This particular bit of into isn't official, but it has been proven that iPhones have been using Corning's magical glass since day one, so chances are Gorilla Glass 4 is what's protecting the display of the iPhone 6s (and 6s Plus) as well. Gorilla Glass panels usually aren't unscratchable, but they sure aren't easy to crack or shatter.
Back to that aluminum unibody for a second, it's worth pointing out that Apple is now using a stronger, 7000 Series aluminum, which is promised to be considerably stronger than the one used in the iPhone 6 and 6 Plus. Now, even if you accidentally forget your iPhone 6s in your back pocket and happen to put it under the pressure of your perfectly shaped butt, the phone should prove to be solid enough to retain its original geometry. Disclaimer: The last clause may not hold true if your name is Nicki Minaj.
The iPhone 6s has also kept the more controversial elements of the appearance of its predecessor, such as the antenna lines and protruding camera. And while we still aren't into the idea of the camera jutting out from the surface of the back, the shapes of the antenna lines add an element of sophistication and artistry to the appearance. After all, can it be named real beauty, if its figure doesn't carry a hint of strangeness – something to continuously draw your mind towards it?
Physically, the iPhone 6s is 0.28" (7.1 mm) thick, while its weight is 5.04 oz (143 grams). In other words, it has grown ever so slightly thicker and heavier than the iPhone 6 and its 0.27" (6.9 mm) thickness and 4.55 oz (129 gr) weight. And that's about it when it comes to their physical differences.
All physical buttons of the iPhone 6s (volume rocker, power key, mute switch, and home), are located in their usual, easy to reach positions. They tend to feel just a tad softer when being pressed, compared to the keys of the iPhone 6 units we've tested, but this may be limited to our review unit. The 3.5mm audio jack and the Lightning connector are once again to be found on the bottom side of the handset, along with the single loudspeaker.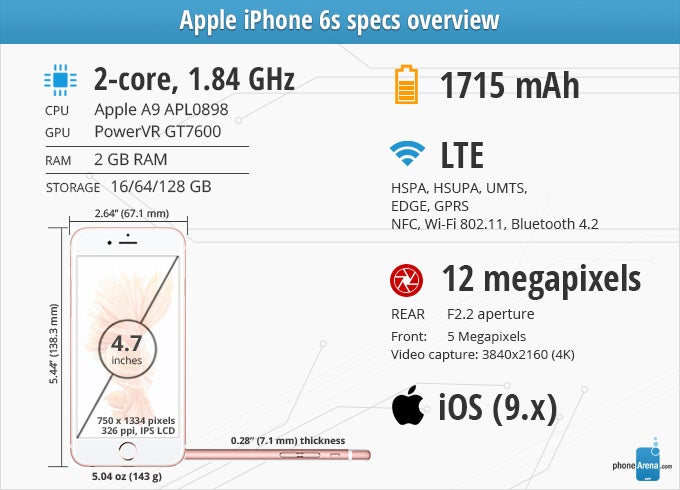 Display
First ever pressure-sensitive phone display tries to convince us there should be more to a screen than simply tapping and swiping.
On the surface, it may seem like Apple hasn't changed much in the way of display technology, but this is not entirely true. The screen size of the iPhone 6s remains the same – 4.7 inches, while the resolution is also unchanged – 750 x 1334 pixels. This may not seem like much, compared to the 1080 x 1920- and 1440 x 2560-pixel screens used by some Android phones, but in reality, it leads to a pixel density of 326 ppi, which is still a very high number even by today's computing standards. Thus, the iPhone 6s's display delivers fine details, a nice and clean image that is easy to read and view. Going forward, we can see the slight benefit of the resolution eventually being cranked up to something like 1080 x 1920 pixels, but at the time being, it's probably wiser to stick with 750 x 1334 for the power efficiency and performance benefits.
Interestingly, the Apple iPhone 6s's maximum brightness has suffered a bit. While last year's model could crank it up to the excellent 600 nits, the 6s "only" reaches 550 nits. Well, that's still a great result which makes it relatively easy to view the display even under bright sunlight, but we know it can be even better. Meanwhile, pulling the brightness slider all the way down gets us to the reasonable 6 nits. At such a low level, the screen is easy on the eyes when viewed in the dark, though it would have been beneficial if it could go even lower than that, like some of its rivals, such as the Galaxy S6 (goes down to 2 nits), or the G4 (also goes down to 2 nits). The automatic brightness control option works very well, as it manages to pick the optimal brightness level in almost any situation.
The iPhone 6 had very good color balance, but there was definitely room for improvement. With the 6s, we're glad to see Apple moving forward: screen color temperature has improved from around 7150 K in last year's model to around 7050 K in the 6s. With the ideal value considered to be around the 6500 K mark, we can see that the iPhone 6s still shows a slight tendency towards a colder image, but overall, it's among the best in this respect. Going forward, we expect Apple to get rid of the excessive blue in the next generations of the product. At present, due to slight bluish tint, the Delta E grayscale value stands at 3.23, while relative color accuracy, reflected in the Delta E rgbcmy value, is the splendid 1.47. If you aren't into the advanced terminology, these numbers simply mean the display is very accurate when it comes to color reproduction.
The screen's average gamma reading is as good as it gets: 2.21, with no artificial contrast boosts detected. This ensures the correct brightness and detail preservation of all images that will be displayed.
Display measurements and quality
3D Touch (hardware)
There really are two aspects to the new pressure-sensing 3D Touch technology that is now built into the display. We'll look at it from hardware and software perspective.
From hardware standpoint, 3D Touch doesn't interfere with the screen's visual characteristics in any way. Instead, it relies on 96 pressure sensors (in 8x12 grid) built into the backlight panel of the display to detect the level of force with which you press on the screen. These sensors detect the microscopic changes in the distance between the display's cover glass and the backlight, and work in concert with the touch sensor and the accelerometer, in order to determine the exact point and level of force application. The iPhone 6s recognizes two levels of force beyond the simple tap/touch.
But in order for the user to feel exactly when they have applied enough force, Apple had to implement an improved version of the vibration motor, which it calls Taptic Engine. While, Apple says, the typical vibration motor of a modern smartphone takes about 10 oscillations to reach full power, the Taptic Engine does so with just 1 oscillation, allowing for a faster and tighter response to the user's actions. This response materializes in the form of two slightly different haptic feedback events: a 'mini' tap (lasting 10 milliseconds), and a 'full' tap (lasting 15 milliseconds). The mini tap, as you can guess, is felt slightly lighter, and is used to indicate the Peek gesture, while the full tap is engaged together with the Pop gesture. In reality, the difference in how mini and full tap feel doesn't seem to be that profound.
Recommended Stories